Miley Cyrus rips paparazzo killed following Justin Bieber's Ferrari; Bieber hopes 'meaningful legislation' might result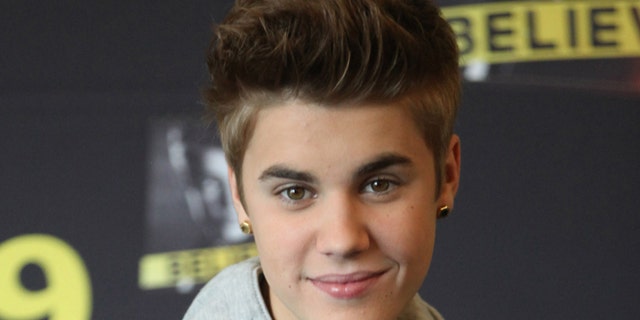 LOS ANGELES – Justin Bieber responded with a statement of condolence following the death of a paparazzo photographer who was hit and killed after following Bieber's Ferrari from a hotel.
But Miley Cyrus had little compassion for the dead man, calling him 'dangerous' and chiding those who choose not to listen to mothers when they caution 'not to play in the street.'
"Hope this paparazzi/JB accident brings on some changes in '13 Paparazzi are dangerous! Wasn't Princess Di enough of a wake up call?!" Cyrus tweeted. "It is unfair for anyone to put this on to Justin's conscious as well! This was bound to happen! Your mom teaches u when your a child not to play in the street! The chaos that comes with the paparazzi acting like fools makes it impossible for anyone to make safe choices."
Bieber was much more diplomatic in his word choices.
"While I was not present nor directly involved with this tragic accident, my thoughts and prayers are with the family of the victim," Bieber said in a statement. "Hopefully this tragedy will finally inspire meaningful legislation and whatever other necessary steps to protect the lives and safety of celebrities, police officers, innocent public bystanders, and the photographers themselves."
A paparazzo was struck and killed by a car while darting across a street after taking pictures of Justin Bieber's Ferrari when it was pulled over along a freeway in Los Angeles, police said Wednesday.
His name was withheld by police pending notification of relatives.
The death came about six months after another photographer was charged with reckless driving and with violating a 2010 California law that toughened punishment for those who drive dangerously in pursuit of photos for commercial gain.
However, a judge later dismissed the paparazzi law charges, saying the law was overly broad and violated First Amendment free-speech protections.
On Tuesday, a friend of Bieber's was behind the wheel of the Ferrari registered to the singer when a California Highway Patrol officer pulled it over for speeding along Interstate 405, authorities said. TMZ reports rapper Lil Twist, 19, was behind the wheel when the fatal accident occurred.
"This photographer evidently had been following the white Ferrari" and when it was pulled over he stopped, parked and crossed the street to snap photos, Los Angeles police Detective Charles Walton said.
The photographer stood on a low freeway railing to shoot photographs of the traffic stop over a chain-link fence, authorities said.
"The CHP officer told him numerous times that it wasn't safe for him to be there and to return to his vehicle," Walton said.
After the officer issued the traffic ticket and the Ferrari left, the photographer began to run back across the street to his car when he was struck by a Toyota Highlander, Walton said.
The driver, a 69-year-old Los Angeles woman, had two small grandchildren in the back seat.
It was not immediately clear how fast she was going. The photographer was carried about 30 feet on the hood of her car, Walton said.
"The windshield was smashed in her car and there was glass all over the front seat" but no blood, Walton said.
The motorist was distraught after the crash. She and the children were taken away by her husband.
She was not believed to be at fault for the accident and was unlikely to be cited, police said.
"There were no sidewalks on the street there, there was no crossing place for a pedestrian, there was no reason to expect a pedestrian," Walton said.
The street also was dark and winding, he added.
"It would have been very difficult for her to see him," Walton said.
It was not immediately clear whether the photographer was a freelancer or full-time professional, although he was carrying expensive camera gear and had connections to a photo agency, Walton said.
In the previous incident, photographer Paul Raef was charged in July with reckless driving and also with violating the paparazzi law that set a maximum penalty of six months in jail and a $2,500 fine.
Authorities said Raef was arrested after Bieber was chased in another car on Interstate 101 at speeds up to 80 mph.
However, Los Angeles Superior Court Judge Thomas Rubinson dismissed the paparazzi law charges.
The law was prompted by the experiences of Jennifer Aniston, who provided details to a lawmaker on being unable to drive away after she was surrounded by paparazzi on Pacific Coast Highway.
- The Associated Press contributed to this report.