Michael Strahan dishes on relationship with Kelly Ripa: 'I am married at work'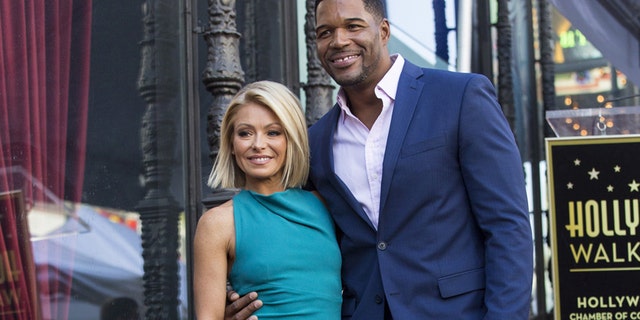 NEWYou can now listen to Fox News articles!
NEW YORK – Michael Strahan and Kelly Ripa work so closely together he feels like they are married.
"Kelly is fun," he told FOX411 of his "Live" co-host. "It doesn't feel like work. Every day we laugh together. Literally, she is my work wife. I am married at work, and I am married to a fun woman, who comes in every day and brings her A-game, and she just celebrated her 15th year of doing this show, which is just amazing to me… For the show to being doing as well as it's been doing is a testament to her."
When Strahan isn't on "Live," he is working on "Good Morning America," keeping his morning schedule jam-packed. Still, the former football star doesn't feel overworked.
"I have jobs that I love to do, so it doesn't feel like work to me," Strahan said. "I wake up every day, and there is always something funny and something energetic that gets me going, and I love those things. I just have great people around me, and I love the people I work with."
Strahan is also very close with his family, which is why it was hard for him when his dad had heart issues recently.
"I had a big scare with him, because I knew he was having some problems… He had some things done, and he had a pacemaker put in, and we were literally having dinner and he starts coughing and I look up, and the next thing I know he is passed out with his eyes open. 'Dad?' And I thought he was gone, and I am screaming and he is not responding. And then my mom was like 'shake him,' and I shake him and he wakes up, and she goes 'well, that's not the first time that has happened.'"
The incident prompted Strahan to demand his dad see another doctor.
"To watch that scared me into action, and made me say 'I don't care what those other doctors are telling you. This is not normal. This is not right.'"
His father got a new pacemaker and adjusted his diet and exercise. He is now in good health.
Strahan has since become passionate about men's heath, and he teamed up with Meta for American Heart Month to talk about the importance of having serious health conversations.
"It made me feel good that I was strong enough and able to have that talk with him, and that he was receptive to that talk," he said. "That's the hardest thing: to make some receptive to getting some advice, especially men because we are kind of hard-headed."