Michael Douglas says famous dad Kirk Douglas told him his acting debut was 'absolutely terrible'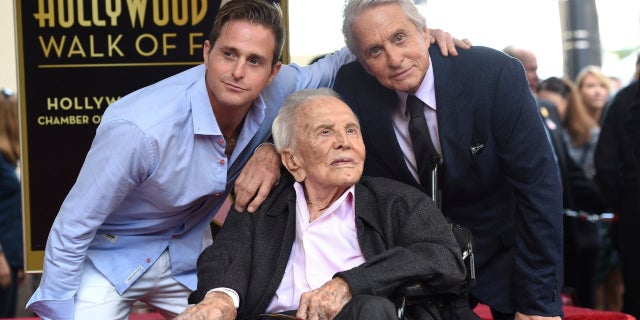 Michael Douglas recalled the time his famous father, Hollywood legend Kirk Douglas, told him that his acting debut was "absolutely terrible."
Douglas, 74, told Vulture his first part was in a production of "A Midsummer Night's Dream."
"When I finally started acting in college, I was a junior," Douglas told Vulture. "I had declared a major as theater, and I think that my first part was a messenger speech in 'A Midsummer Night's Dream.'"
The Academy Award-winning actor said he was extremely nervous because he would be delivering his lines near a row where his father sat.
MICHAEL DOUGLAS REVEALS WHAT SON CAMERON HAS BEEN UP TO 2 YEARS AFTER PRISON RELEASE
"And I was so nervous," Douglas recalled. "'My Lord …' and I had to take a deep breath and …"
The actor said he sped through his speech and it came out incomprehensible.
"And I ran back up the aisle! And everybody said, 'What did he say? What did he say?'" Douglas recalled.
Following the play, Kirk Douglas, now 101, approached his son and told him what he thought of his performance.
MICHAEL DOUGLAS ADMITS IT WASN'T ALWAYS EASY HAVING KIRK DOUGLAS FOR A FATHER: 'PEOPLE THINK IT'S A SILVER SPOON'
"Dad came back and said, 'Son, you were terrible. You were absolutely terrible.' He was so relieved that he wouldn't have to deal with me as an actor," Douglas said. "And bless him, as busy as he was, he came to almost every production that I did over those years."
Douglas did get better and went on to win an Academy Award for best actor for his portrayal of Gordon Gekko in "Wall Street." He gave some credit to his acting teacher, Wynn Handman, for teaching him the ropes. His famous father took notice as well.
"He [Kirk Douglas] came and he said, 'You're good. You're really good. Persevere. It's not just out of pure talent. Sometimes you've just got to slog away," Douglas recalled.