Michael Douglas reveals what son Cameron has been up to 2 years after prison release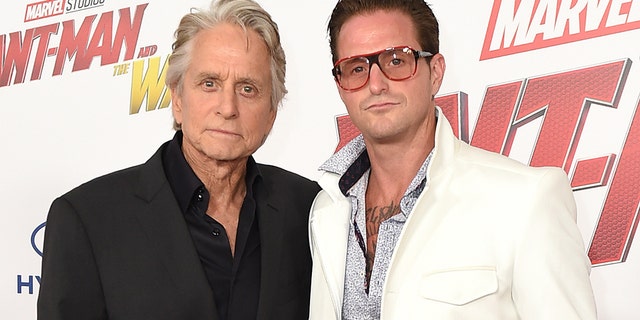 Michael Douglas and ex-wife Diandra Luker's son, Cameron, is doing "great" two years after he was released from prison — and the actor said he's turning his life around.
The 39-year-old was released from federal custody in August 2016 following a 7-year sentence for drug-related charges. Cameron had been long battling a heroin addiction and was sent to live in a halfway house following his release.
He's since been spotted happy and healthy with his girlfriend, yoga instructor Viviane Thibes. The couple welcomed a baby girl named Lua in December 2017.
Cameron joined his actor dad on the red carpet premiere of his film "Ant-Man and the Wasp" at El Capitan Theatre this week, where Douglas joked about adjusting to life as a grandpa.
CAMERON DOUGLAS' LIFE AFTER PRISON: MODELING, POETRY AND TRIBUTE TATTOOS
"I was telling [Cameron], I love Lua, she's gorgeous," the Oscar award-winning actor told Us Weekly on Wednesday. "Grandchildren are great when you're an empty-nester and you don't have anybody and then you've got a grandkid but when you still have kids in the house, it's like, 'Oh, OK. great.'"
Douglas and wife Catherine Zeta-Jones' children Dylan, 17, and Carys, 15, have yet to fly the coop.
Cameron praised Douglas on Father's Day, sharing a throwback photo of the pair on his Instagram account.
"Been there through thick and thin, never once did you quit on me...I Love you with all my heart. HappyFathers day Dad! he wrote.
THE NYC DOWNFALL OF HOLLYWOOD HEIR CAMERON DOUGLAS
The photo received more than 2,000 likes and dozens of encouraging comments from fans.
"Thanks for sharing! Your family is captivating," one Instagram user wrote.
"It's a dream to have this father," another added.
"Young Cam! Sending u positive vibes my man," one user commented.
Cameron gushed about his close relationship with his father in a 2017 interview with People.
"In difficult times, we tend to come closer. It is a beautiful sort of trait that we have," Cameron told the publication. "My father and I have an amazing relationship. I love spending time with him, and I will spend as much time with him as I can."
"Ant-Man and the Wasp" hits theaters on July 6.