Mexican Lucha Libre gets American face time in new El Rey Network drama series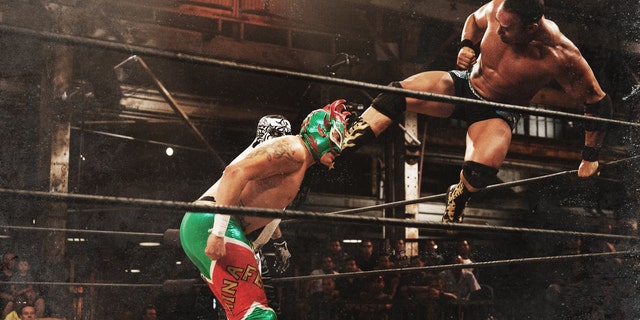 NEWYou can now listen to Fox News articles!
For a lot of Hispanics, especially those living along the U.S.-Mexico border, watching lucha libre was part of growing up.
It was the sport with high-flying stunts, rapid sequences of holds and maneuvers that many people lived for.
It's gritty, underground free-style wrestling. And that is exactly what producers Robert Rodriguez and Mark Burnett will be presenting to American audiences in "Lucha Underground," which premieres tonight on El Rey Network.
The hour-long show welcomes fans to have a ringside seat for one of Mexico's most popular sports, where masked villains and heroes face off to battle for lucha libre – wrestling – supremacy.
Executive producer Eric Van Wagenen, who has been working with Burnett ("The Amazing Race" "The Bible") for nearly a decade, warned that the show should not be compared to other wrestling shows like WWE, which are live events with massive undertakings.
"We are treating ('Lucha Underground') as a TV show primarily," he told Fox News Latino. "It will follow the guidelines of a wrestling series with three to four matches filled out with vignettes that set up the matches."
To keep the traditional conflict of good guy versus bad guy (tecnicos versus rudos) intact, show creators reached out to Lucha Libre AAA, which is in charge of the Mexican wrestling world. Van Wagenen said it needs to pass their test so that it can be as authentic as possible, but still attractive to an American audience used to WWE.
Early reviewers are describing the show as professional wrestling meets fight club – something that creators strived for when staging it.
"We want to have lucha fans in the seats," Van Wagenen said. "We wanted it to be in a Latino neighborhood. We are shooting in a building in Boyle Heights in L.A. The set feels like it belongs in the neighborhood."
Van Wagenen said they are all betting the English-language show will resonate with an American audience and he does not see any reason why it shouldn't.
"The action is incredibly fast-paced, high-flying," he said. "I don't think you need to know (about lucha libre) to understand that."
"Lucha Underground" airs Wednesdays at 8 p.m. on El Rey Network.
Follow us on twitter.com/foxnewslatino
Like us at facebook.com/foxnewslatino