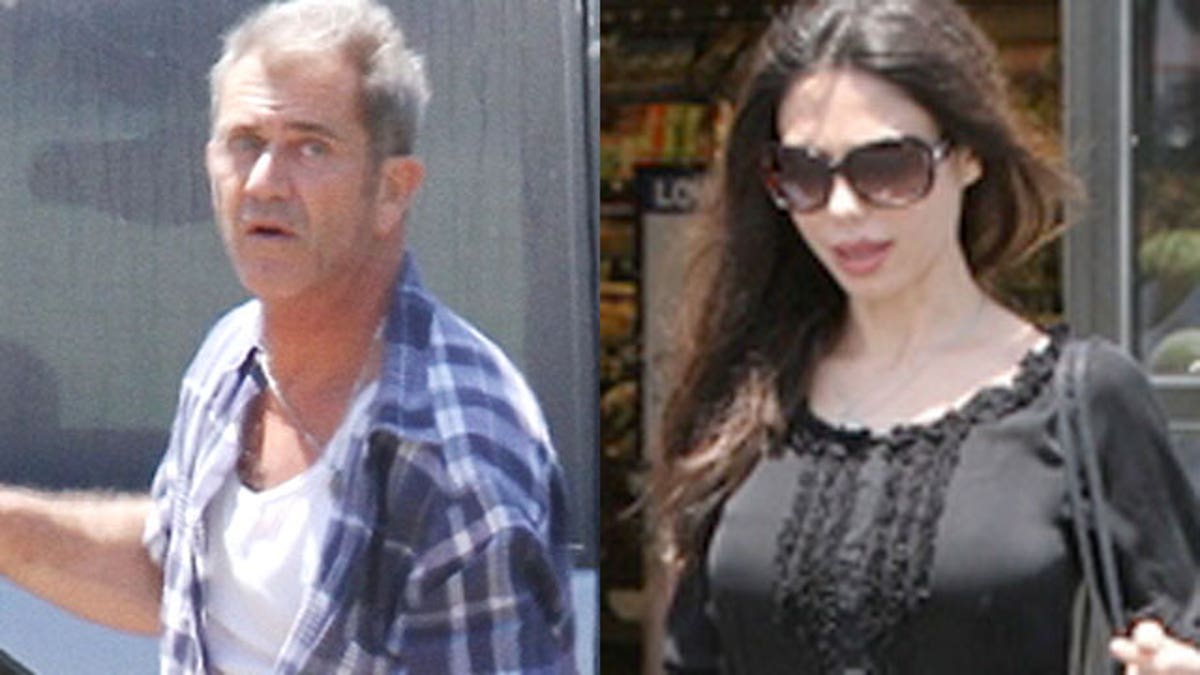 An explosive audio recording which allegedly features Oscar winner Mel Gibson admitting to hitting his ex-girlfriend Oksana Grigorieva and twice threatening to kill her was released Monday on the celebrity news site RadarOnline.com.
In the recording of a telephone conversation, the site says the enraged actor tells Grigorieva "you deserved it" after she says that he hit her and broke her teeth.
He also said "You need a f**king bat in the side of the head," RadarOnline.com reports.
YOU DECIDE: Would you go to a Mel Gibson movie now?
Gibson then allegedly makes what could be considered a death threat, screaming "I'll put you in a f **kin rose garden you c**t! You understand that? Because I'm capable of it. You understand that?"
The two are involved in a bitter custody battle over their eight-month-old daughter Lucia.
The L.A. County Sherriff's Department has also opened an investigation into Gibson's alleged violent behavior toward Grigorieva, that will soon be heading to the district attorney's office.
"Investigators are treating this case very carefully," a source close to the investigation told FOX411.com. "They'll be determined to nail him. It's highly likely he'll do time (in jail) for this if found guilty."
A rep for the Sheriff's Department stated that the investigation was preliminary in nature and no further information is available at this time. A rep for Gibson earlier declined comment but said a statement could be made sometime this week.
FOX411: Gibson Could Get 4 Years if Convicted of Felony Assault.
Radaronline.com released another recording on Friday in which Mel Gibson is heard using a racial epithet and calling his ex-girlfriend a "whore."
That two-minute recording includes segments in which a voice sounding distinctively like the Academy Award-winner is heard telling his then-girlfriend, Oksana Grigorieva, that she is dressing too provocatively and that it would be her fault if she were raped. He uses the N-word at one point, and the recording is laced with his profanity.
Grigorieva recorded the actor-director because she was afraid he might harm her, the website reported. The actor is heard on the recording harshly criticizing Grigorieva for the way she dresses. He accuses her of lying to him about having breast implants.
Go to RadarOnline.com for the shocking full recording.
"They just look stupid," Gibson tells her at one point in the recording. "Keep them if you want to. They look like a Vegas bitch, a Vegas whore."
"You look like a (expletive) bitch in heat, and if you get raped by a pack of (N-word), it will be your fault," Gibson is heard telling Grigorieva. "You provoked it. You are provocatively dressed."
Alan Nierob, a spokesman for Gibson, did not immediately respond to requests for comment.
A phone message left for Grigorieva's attorney, Marci Levine, was not immediately returned.
It is unclear when the recording was made or in what context. It opens with Gibson discussing breast feeding of their now 8-month-old daughter. Toward the end, Gibson indicates he is done with the relationship.
"I don't trust you," the actor is heard saying. "I don't love you. I don't want you."
The recording has shades of another scandal for Gibson -- his use of anti-Semitic and sexist remarks during a drunken driving arrest in 2006. The actor-director later apologized for the statements, which were included in a report by a sheriff's deputy who arrested Gibson that was obtained by celebrity website TMZ.
Also on Friday, Gibson's talent agency, William Morris Endeavor, dropped the actor.
The former couple have been locked in a bitter custody dispute in Los Angeles. The 40-year-old singer has accused Gibson of domestic violence, and sheriff's officials have launched an investigation.
Records in the court case, which may include the audio recordings, remain sealed.
- The Associated Press contributed to this report.