Meghan Markle, Prince Harry's royal wedding flowers turned into bouquets for hospice patients
The flowers that decorated St. George's Chapel for Prince Harry and Meghan Markle's royal wedding brought some joy to hospice patients in London.
St. Joseph's Hospice announced Sunday the staff received a "very special delivery" of bouquets that were made from the royal wedding flowers.
"A big thank you to Harry and Meghan and florist Philippa Craddock. Our hospice smells and looks gorgeous. Such a lovely gesture," the health care facility wrote on Facebook along with a photo of a patient and the bouquet.
The Facebook post received more than 3,600 reactions and 2,200 shares as of Monday morning.
MEGHAN MARKLE AND PRINCE HARRY'S FIRST DANCE SONG REVEALED
Kensington Palace previously said the flower arrangements, designed by Craddock, will be distributed to charities after Saturday's wedding ceremony. The arrangements included beech, birch and hornbeam, peonies, foxgloves and white garden roses, which was one of late Princess Diana's favorite flowers.
Markle's bouquet also paid tribute to Prince Harry's mother by including forget-me-nots, another one of Diana's favorite flowers. Markle's bouquet was laid on the grave of the Unknown Warrior in the west nave of Westminster Abbey in London — a royal wedding tradition.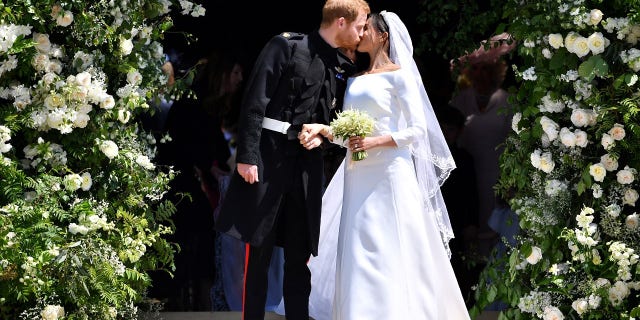 It's unclear which charities the rest of the flowers went to.
MEGHAN MARKLE, PRINCE HARRY REVEAL FLORIST FOR ROYAL WEDDING
Markle and Harry began their life as a married couple after celebrating their wedding day with friends and family. No details of their honeymoon have been announced. Markle and Harry will be attending their first engagement as a married couple on Tuesday.