Meg Ryan talks John Mellencamp engagement and return to romcoms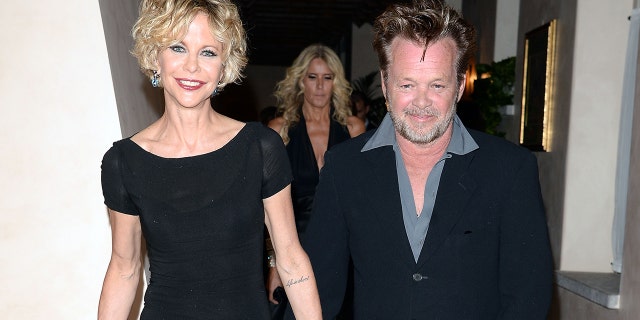 Meg Ryan and John Mellencamp are more in love than ever — and the actress thinks that getting older has only made them more crazy about each other.
The couple, who got engaged in November, are going strong, leading the usually private Ryan, 57, to gush a bit about her beau.
"What's great about now is that John and I are so free to have fun. Maybe that freedom is about being a million years old," Ryan cracked to The New York Times Magazine. "But I sometimes think relationships are for aliens. Who does it? Who can do it? I don't know how any of us ever do."
CLICK HERE TO GET THE FOX NEWS APP
Perhaps her happy love life with the "Jack and Diane" rocker is influencing her work, because the onetime America's Sweetheart is eager to get back into the romantic comedy game after a series of darker roles and dramas.
"[Rom-coms were] probably [my strong suit]," she said. "I liked doing the alcoholic in When a Man Loves a Woman; I liked doing In The Cut; but I was very happy going to a set that was about: How do you find the funny thing? I like that again now, working on a romantic comedy."
JOHN MELLENCAMP SAYS FIANCE MEG RYAN IS THE FUNNIEST WOMAN HE'S EVER MET
Ryan is working on a screenplay in the romcom vein, but she's not divulging too many details just yet.
"It's at Working Title Films. I'll just leave it at that. Getting the green light, David. My God. You feel like you're jinxing it if you're talking about it," she admitted. "Hopefully it's for me to direct. I'm aware now that romantic comedies are confections, but they have construction. There's architecture. t's not something I was aware of back then."