Matt Lauer fired: A look at the fallen 'Today' star's career
NEWYou can now listen to Fox News articles!
Longtime "Today" show host Matt Lauer was fired from NBC due to "inappropriate sexual behavior," the network announced in November.
And on Jan. 2, NBC kicked off the new year by naming Hoda Kotb as Lauer's "Today" replacement. She will co-host the morning show's first two hours with Savannah Guthrie and continue to host the fourth hour with Kathie Lee Gifford.
NBC News Chairman Andy Lack previously said in a statement that the network received "a detailed complaint from a colleague about inappropriate sexual behavior in the workplace by Lauer, who is 60.
"We were also presented with reason to believe this may not have been an isolated incident," Lack's statement said. It was read aloud on the "Today" show by Guthrie.
Here's a look at Lauer's almost 40-year career, from rags to riches to what now?
1979
Lauer's television career first began as a producer of a noon news program at WOWK-TV in Huntington, West Virginia.
He left Ohio University just shy of enough credits to graduate to take the job, the school said in a 1997 profile of Lauer. He would, however, later receive his degree. Lauer was born in New York City but eventually moved to Greenwich, Conn., where he attended high school.
He then became a reporter for the network's 6 p.m. and 11 p.m. newscasts, his NBC biography said.
1981
Lauer married his first wife, Nancy Alspaugh in 1981. Their marriage would end in divorce in 1988.
1985 – 1986
Before it folded, Lauer hosted the New York City edition of "PM Magazine."
1989 – 1991
Lauer hosted a three-hour program in New York called "9 Broadcast Plaza."
1992 - 1996
Lauer was a co-anchor of WNBC's "Today in New York." He would later add co-anchor for the early evening newscast "New Channel 4/Live at Five" to his daily agenda, according to his NBC biography.
Lauer also filled in as a news anchor for "Today" when needed.
1994
Lauer became a permanent news anchor of "Today."
1997
Lauer became the co-anchor of "Today."
He was also named People's "sexiest anchor" in 1997.
1998
Lauer began to host the Macy's Thanksgiving Day Parade live from Manhattan. He would continue to be part of the event's annual coverage through 2017.
He also interviewed then-first lady Hillary Clinton regarding the Monica Lewinsky scandal. It was her first interview on the subject, his biography said.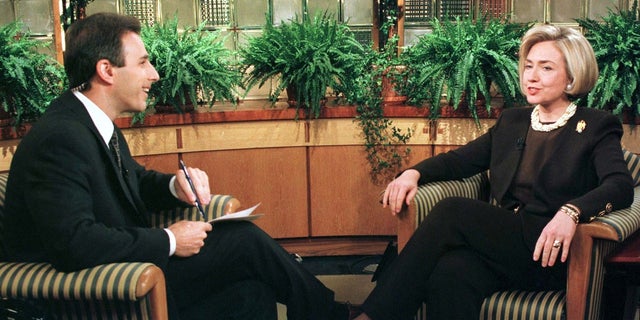 In 1998, Lauer would also marry Annette Roque.
She would file for divorce in 2006, citing "cruel and inhumane" behavior from Lauer, Newsweek reported. However, the divorce papers were later withdrawn. The pair have three children together.
2006
Lauer appeared in an episode of the sitcom "Will & Grace." He played himself in the episode titled "Bathroom Humor."
2014
Lauer briefly took over hosting duties during the 2014 Olympics in Sochi after NBC's primetime Olympics host, Bob Costas, fell ill with pink eye.
2016
Lauer signed a contract to keep him with NBC's "Today" for an additional two years, according to the Hollywood Reporter. The new contract reportedly put him at about $20 million per year.
2017
Lauer was fired from NBC News over "inappropriate sexual behavior in the workplace."
2018
Hoda Kotb was named co-anchor of "Today" where she will host the show's first two hours with Savannah Guthrie, Lauer's previous co-host.
Kotb will also continue to co-host the show's fourth hour with Kathie Lee Gifford. Kotb has subbed for Lauer, including on the day he was fired from the network.
The Associated Press contributed to this report.