Matt Damon: Weinstein and Franken 'do not belong in the same category'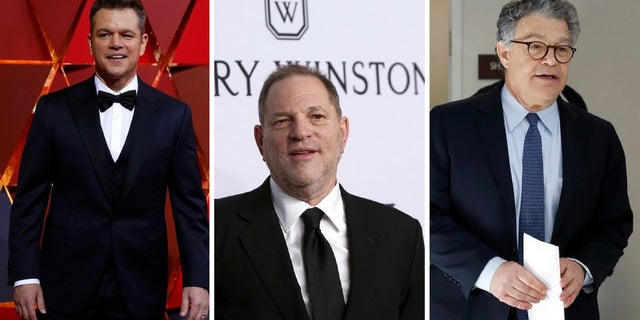 Academy Award winner Matt Damon offered his opinion about sexual misconduct allegations shaking up Hollywood, praising women for coming forward and saying not all the accused men belong in the same category.
"I think it's wonderful that women are feeling empowered to tell their stories, and it's totally necessary," Damon said in an interview on ABC's "Popcorn with Peter Travers."
"I do believe there's a spectrum of behavior. There's a difference between patting someone on the butt and rape or child molestation, right? Both of those behaviors need to be confronted and eradicated without question, but they shouldn't be conflated," he said.
Damon said the misdeeds of Minnesota Sen. Al Franken are different to those of disgraced Hollywood producer Harvey Weinstein.
Franken announced he would be stepping down from the Senate in the coming weeks after a number of women came forward alleging sexual misconduct. Two bombshell exposés published by The New Yorker and The New York Times in October revealed Weinstein's alleged decades-long sexual misconduct.
MATT DAMON NOW ADMITS HE KNEW ABOUT AT LEAST ONE ACCUSATION AGAINST HARVEY WEINSTEIN
"When you see Al Franken taking a picture putting his hands on that woman's flak jacket and mugging for the camera… that is just like a terrible joke, and it's not funny. It's wrong, and he shouldn't have done that," Damon said. "But when you talk about Harvey and what he's accused of, there are no pictures of that. He knew he was up to no good. There's no witnesses. There's no pictures. There's no braggadocio. That stuff happened secretly, because it was criminal and he knew it. So they don't belong in the same category."
Damon and Weinstein worked together on the hit blockbuster "Good Will Hunting." The actor claimed he knew nothing of Weinstein's inappropriate behavior but backtracked and admitted he was aware the producer allegedly sexually harassed Gwyneth Paltrow.
Damon told Travers he knew he would not want Weinstein "married to anyone close to me."
"But that was the extent of what we knew. I mean, and that wasn't a surprise to anybody. So when you hear Harvey this, Harvey that — I mean, look at the guy. Of course, he's a womanizer," Damon continued.
Damon also mentioned Louis C.K., another star accused of sexual misconduct.
MATT DAMON RESPONDS TO CLAIMS HE HELPED KILL A STORY ABOUT HARVEY WEINSTEIN IN 2004
Damon said after he read Louis C.K.'s response to the allegations, he remembered thinking "we can work with that."
"The Louis C.K. thing, I don't know all the details. I don't do deep dives on this, but I did see his statement, which kind of, which [was] arresting to me. When he came out and said, 'I did this. I did these things. These women are all telling the truth.' And I just remember thinking, 'Well, that's the sign of somebody who — well, we can work with that.' Like, when I'm raising my kids, this constant personal responsibility is as important as anything else they learn before they go off in the world," Damon said.
The actor's full interview with on "Popcorn with Peter Travers" will be available on Dec. 27, the network said.