Maria Menounos and 'DWTS" partner Derek Hough all touchy feely on movie date, witness says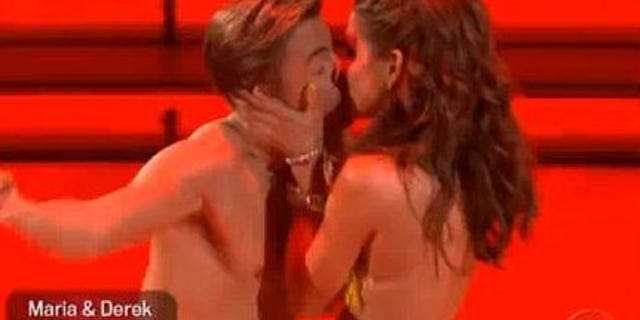 LOS ANGELES – Are "Dancing with the Stars" partners Maria Menounos and Derek Hough doing more than just the mambo?
The dancing duo certainly seemed to be more than just friends during a recent visit to the Grove, a popular outdoor mall in West Los Angeles, on May 8.
"I saw them at 'The Avengers' a few nights ago," a spy told Fox411.com. "Maria and Derek were sitting towards the back of the theater. He had his hand on her leg. On their way out of the theater, he was squeezing her (behind), but once they got out into the light, he stopped."
This is not the first time people have noticed Menounos and Hough's cozy interactions off the dance floor.
HOT SHOTS: Menounos shows off bikini body.
Menounos – who has been in a serious relationship with producer Keven Unfergaro for over ten years – recently posed for some very chummy photos with Hough poolside at the Bud Light Lime "Lime-A-Rita" Cinco de Mayo party in Las Vegas.
But despite evidence that there's more to Menounos and Hough's relationship than just doing the two-step, Unfergaro seems unfazed by his girlfriend's touchy-feely photo ops with her DTWS dance partner.
"It's part of the business," Unfergaro told Wetpaint.com after pictures of Menounous and Hough smooching surfaced last month. "It's the same as if she was acting in a movie. It's a role. I'm fine with it, I promise."
Meanwhile, our spy noted that while Hough may be generous with his public–and private–displays of affection, he's stingy in other ways.
"He and Maria left together in his black Audi S5–he didn't tip the valet."
Calls to reps for Hough and Menounos were not returned.