Maria Conchita Alonso Sticks to Calling Sean Penn a Communist, Apologizes for Using Profanity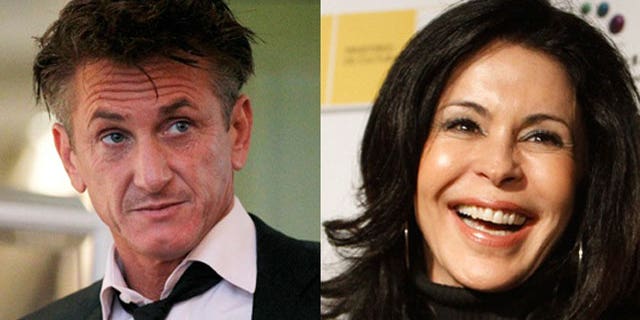 They had a steamy sex scene when they co-starred together in the 1988 flick "Colors," but these days, the closest Maria Conchita Alonso and Sean Penn get is cursing each other out at the airport.
The actors had jaws a-dropping at the American Airlines lost luggage area in LAX on Sunday after the Cuban-born Alonso approached Penn to question why he advocated support for controversial Venezuelan President Hugo Chavez. According to Alonso, the argument intensified to the point where Penn, who had returned to the country from Haiti, called his former on-screen love interest "a pig," to which she responded:
"And you are a communist a**hole! It is great to live the way you do as a communist!"
A rep for Penn did not respond to a request for comment regarding the incident, but told the New York Post that a "hostile woman was nonsensically berating" him.
While Alonso has no regrets about the "communist" outburst – she does wish she hadn't used profanity.
"The only thing I regret is me calling him an a** hole because I lowered myself to where he is at, and took away my class at that second, but I don't regret calling him a communist. The other thing I regret that nothing came out of this for us to meet in private," Alonso told FOX411's Pop Tarts column on Tuesday. "What happened Sunday isn't really the way I wanted things to happen, I thought, 'This is the perfect moment for me to go and tell him lets meet and talk.' I have facts and he doesn't. All he sees is what Chavez has presented. I am still not having a conversation with him, which is what I wanted to achieve that day. But all this is still good because I have an opportunity now to tell people that what Sean says is not true. How can you believe someone like Chavez? You have to be stupid, which I know Sean is not."
Penn is only one of many Hollywood heavies Alonso would like to engage in a discussion of communism and its historical ramifications.
"The reason I am doing this is because someone as likable as an actor that garners a lot of respect as Sean does, has a lot of people that do believe in him. He's done good things in Haiti and all that, but for him to talk about Chavez and Castro as good people and say the U.S. should be like that really upsets me, because people are going to believe him," she continued. "I've been spreading the word around for a while that I've wanted to talk to him and Danny Glover and even Oliver Stone. But they haven't wanted to talk to me. I want to believe that it is just ignorance. I want to believe that those amazing directors and writers and actors that praise communist leaders just don't know the truth and have been brainwashed by the propaganda."
Alonso thinks Penn today is different from the man she got to know intimately some 14 years ago.
"Back then he was very nice, very charming. We had great chemistry. He would complain about the press and getting into fights with the press, I just told him not to pay attention," she added. "He was upset because they used to call him names to provoke him about (ex-wife) Madonna or whatever. I just told him not to pay attention because that is what they wanted. Now look at us."