Macaulay Culkin live-tweeted the Oscars, roasted the show and winners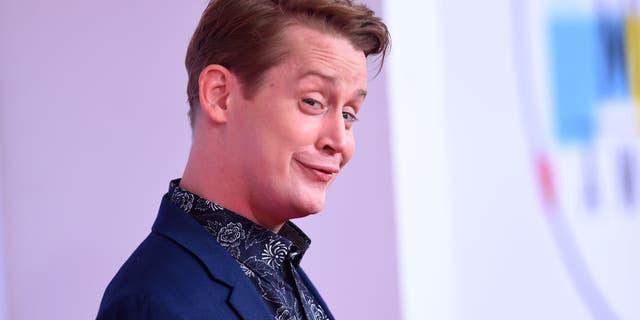 While the 2019 Oscars went hostless, "Home Alone" star Macaulay Culkin decided to usher people through the show from the comfort of his home by live-tweeting the entire event.
The 38-year-old actor took to Twitter the day before the 91st Academy Awards to tease his fans that he'd be live-tweeting the event, beginning the cavalcade of irreverence for the ceremony by joking that it would be a "14 hour show."
During the actual Feb. 24 broadcast, the star joked that he was tapped to host the event before realizing at the last minute that it would be without a host following the Kevin Hart controversy. From there, he produced a slew of incredibly silly Tweets that mocked the show in general. For example, he tweeted his prediction for the fictional "best oscar" category with the "Sesame Street" character Oscar the Grouch. He went on to joke about the very real category of best cinematography by saying, "Sweet, I love maps."
MACAULAY CULKIN MAKES 'HOME ALONE' CONFESSION BEFORE CHRISTMAS
The star's hours-long Twitter work also included a hearty amount of self-deprecation, starting with some tongue-in-cheek jealousy that "Daily Show" host Trevor Noah was in attendance.
"Trevor Noah is a presenter? Trevor Noah didn't even make movies. I was America's sweetheart," he wrote.
Culkin also joked about being left out of the "In Memoriam" segment.
'BOHEMIAN RHAPSODY' STUDIO REPORTEDLY HOPING TO AVOID PAYING BRYAN SINGER
"I can't believe this is the 5th Year in a row I'm not in the in-memoriam… and I've been trying so hard," he tweeted.
"When Christian Bale eats 100 pies it's for a role, but when I do i'm just 'depressed,' he joked of Bale's weight gain for his role as Dick Cheney in "Vice."
After Bale lost his award, Culkin tweeted: "If Christian Bale had just ONE more pie... he would have won."
Culkin even got a little harsh when it came to the best actress category win for Olivia Colman over Glenn Close, who was nominated for the 7th time without a win.
"Glenn Close yet Glenn-so-far-away…" he tweeted.
"Tally so far: Comic book movies = 4 - Glenn Close = 0 - Olivia Coleman [sic] = 1 - (yup)," he later tweeted.
"Yeah Olivia Coleman is really good, but did she ever wear a meat dress? @ladygaga," he joked.
He also took a shot at embattled director Bryan Singer, who maintained his directing credit for "Bohemian Rhapsody" despite being fired. Following his firing, he was the subject of multiple allegations of sexual misconduct.
CLICK HERE TO GET THE FOX NEWS APP
"If Bohemian Rhapsody wins Best Picture it won't be the first time an alleged sex offender directed a Best Picture," Culkin wrote.
He finally concluded his Oscars live tweeting with his pick for best picture.