Linda Hogan's Shocking Allegations: I Was Afraid Drug-Addicted Hulk Would Kill Me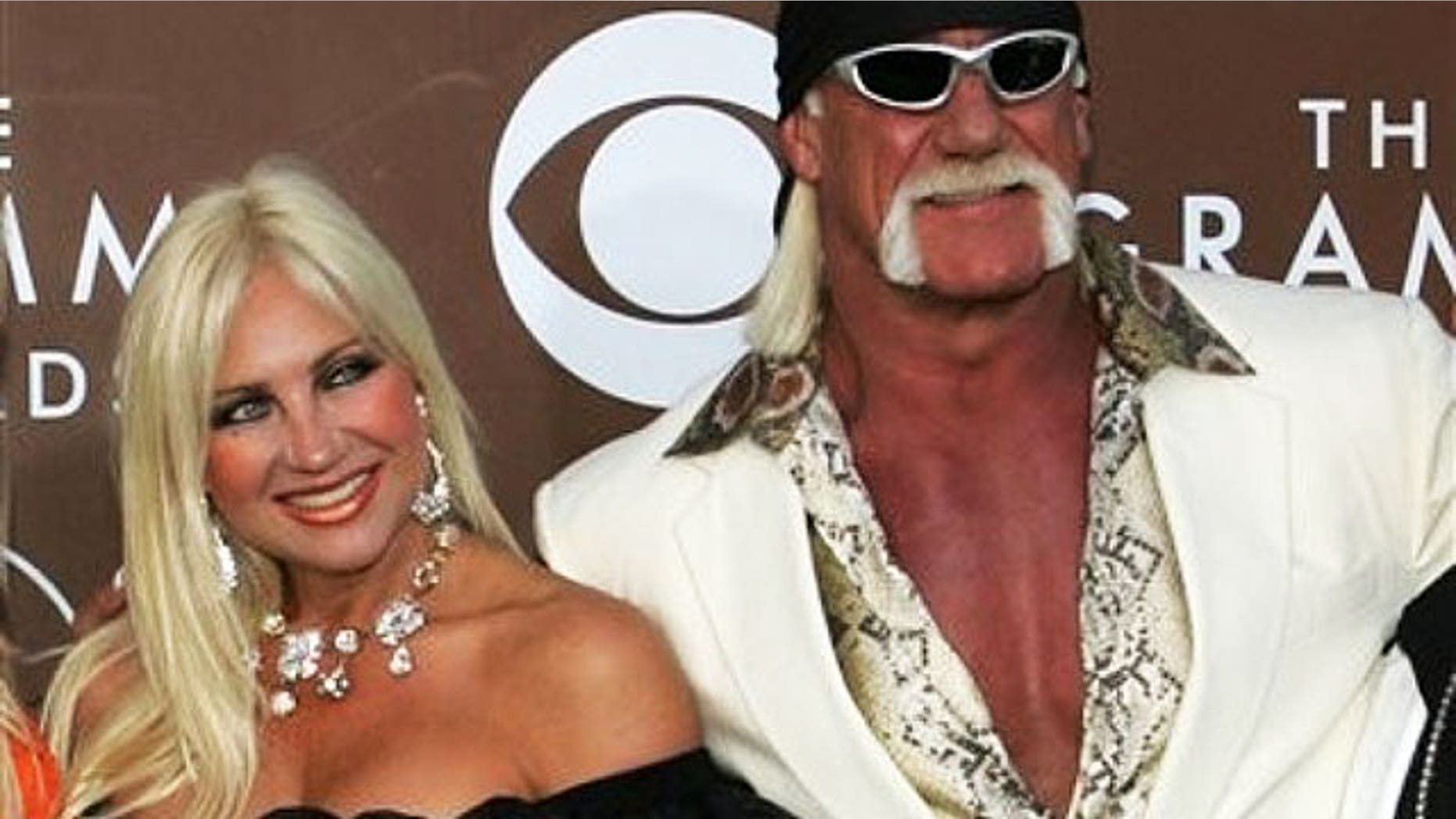 Almost four years since filing for a divorce from retired wrestler Hulk Hogan, his former wife Linda is dishing her side of the story in the tumultuous tell-all book, "Wrestling the Hulk: My Life Against the Ropes."
Among the many shocking allegations and revelations in the book are claims that she spent years in an "abusive relationship" and that her former husband was hooked on drugs.
"From the very onset of our marriage, he took a lot of steroids; he was always on drugs, recreational drugs. He had all kinds of stuff he was doing, along with all of the other wrestlers. Combine that with the huge ego that goes along with being famous," Linda told FOX411's Pop Tarts column while promoting the new book. "On top of all of this, my ex-husband was a fighter, and he was a sore loser, so (imagine) going up against somebody that's like that, 330 pounds, full of rage of testosterone, when they get angry."
Linda also alleged that at times she feared the WWE champ would go so far as to take her life.
"I had a little bit of shoving; sometimes he'd squeeze my arm or squeeze my face really hard when he was talking to me, or shove me onto the bed. I just tolerated that, but as the years went on it got worse. Broken lamps, hair pulled out, furniture broken, he threw the dog off the bed," she said.
"It scared me that he might just snap, not realize what he's doing, he is just so strong. I thought he could kill me. He had his hands around my neck one time on the bed and he started squeezing my throat. He just went into this trance and I looking at him and saying, 'Terry, stop, stop. I can't breathe.'
"And it was like, all of the sudden, when he lifted his hand off of my throat, it was like something came over him and came back down to earth. But meanwhile, I was like, 'Oh my God, this is how I'm going to die.' At that point, I just knew I couldn't let myself ever get in that situation again. It was too close."
It took the now 51-year-old a long time to bow out of the marriage she claimed was troubled very early on.
"I tolerated my ex-husband's infidelity for way too long; you have to live with the lies, the cheating, and the hidden agenda. They're not going to tell you they're having an affair, so you don't know why your marriage is falling apart," she said. "The first time that I realized (the infidelity) it was ten years into the marriage. Sadly enough, I forgave him and thought maybe we'd have a second chance at it and he would never do that again. He apologized. I trusted his word, believing everything he said, but I shouldn't have."
Having now poured her heart out on paper, Linda says she hopes she can be something of a role model to other women stuck in abusive relationships dominated by infidelity.
"Women tend to take all the blame (when things go wrong) and think, 'maybe I should have lost weight or I should have been skinnier or prettier or smarter.' He was an American icon, he was huge and famous and look, it happened to me when I was 50 and we had been married 24 years," she said.
But she insists that now she is doing much better.
"I'm not crying in my soup, I've moved on. It's not worth shedding one more tear for – I don't feel sorry for myself anymore. I feel sorry for him. He has got to live with the choices at look at himself in the mirror everyday and realize that he's the one that has lost out."
On the subject of moving on, Linda couldn't be more in love with her young boyfriend Charlie, who she met on the beach when he was only 19.
And despite a very public divorce, Linda tells Tarts that she isn't opposed to walking-down-the-aisle again.
"I'm in pretty good hands with Charlie. Even though he's young, we have a great relationship. He's my soul mate and I love having an actual partner that I can communicate with and physically have someone there for me," she told us.
A rep for Hulk Hogan declined to comment on Linda's book and subsequent accusations.
But Hogan has made his own accusations against his ex-wife.  In 2009 the wrestling champ-turned-reality star got his word out in his own autobiography "My Life Outside the Ring," and claimed she was an alcoholic who was abusive to their children.
Linda has since denied the accusations.
"My marriage to Linda was very toxic and very negative. Jennifer (his then girlfriend, now wife) is just the opposite, she doesn't drink or get high on drugs," Hulk told Pop Tarts in an exclusive interview promoting the book shortly after its release. "If you're in my home and watching TV, you have to watch the science channel or the history channel or cartoons. She doesn't watch anything negative like the news or TMZ. She doesn't read the newspaper. She always walks in the Spirit of Christ, she never deviates."