Liberal HuffPost reporter slammed for ghoulish joke about John McCain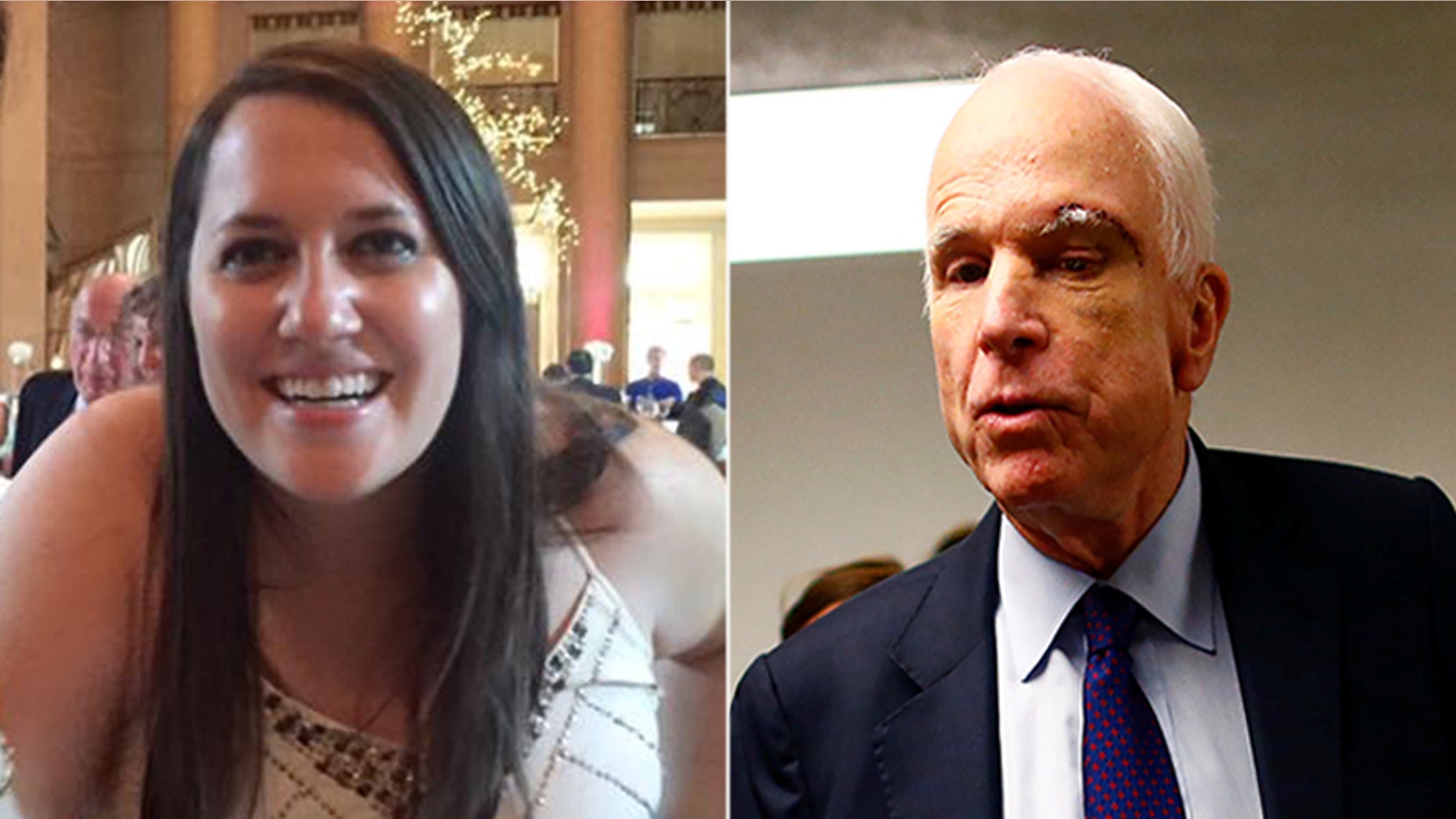 HuffPost senior reporter Ashley Feinberg apologized for an insensitive tweet that essentially predicted Senator John McCain, R-Ariz., would die in the near future, leaving his family to benefit from an overhauled estate tax.
"Congratulations to John McCain's wife and children on their upcoming tax-free inheritance," Feinberg tweeted on Thursday shortly after McCain announced he would support the Senate Tax Reform bill.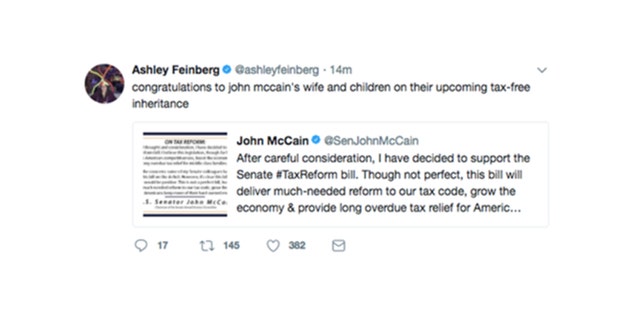 "After careful thought and consideration, I have decided to support the Senate tax reform bill," the Arizona senator had said in a statement. "I believe this legislation, though far from perfect, would enhance American competitiveness, boost the economy, and provide long-overdue tax relief for middle-class families."
McCain's support increases the chances for passage of the sweeping legislation as it faces a likely final vote. Feinberg apparently thought it would be a good time to remind her 103,000 Twitter followers that the Arizona Republican is undergoing treatment for brain cancer. McCain, a 2008 presidential nominee, revealed in July he was diagnosed with glioblastoma, a particularly aggressive type of tumor. More than 12,000 people are diagnosed with glioblastoma, the American Brain Tumor Association reported.
"The prognosis is very, very serious," McCain said on CBS' "60 Minutes" in late September.
McCain was hospitalized earlier this month after he suffered a "minor tear" of his Achilles tendon and side effects from his cancer therapy, his office said in a statement.
The Senate bill would not eliminate the estate tax – sometimes called the "death tax" by opponents – but it would double the exemption. The federal estate tax is a tax on the transfer of property after someone's death. That property must exceed a certain value amount for the tax to be applicable.
After being slammed for her initial comment, Feinberg deleted her tweet and offered an apology.
"I shouldn't have been glib and callous in pointing out that john McCain's family stands to benefit massively from the estate tax provision in the tax bill he's voting on this week, and I am sorry for that," she wrote after deleting the original message. "I deleted the tweet it's not worth it."
When reached for comment, Feinberg told Fox News: "I made a regrettably ghoulish remark about John McCain voting for a tax bill that would increase taxes on people making between $40,000 and $50,000 by $5.3 billion, decrease taxes on people making over $1 million by $5.8 billion, and lead to 15,600 more deaths per year because 13 million people will lose their health insurance, and you think the story here is the tone of my tweet."
The liberal HuffPost literally refused to cover then-candidate Trump in its political section early in his successful presidential campaign. The outlet kept the former reality TV star's coverage in the entertainment section until they eventually realized he had a legitimate chance of winning the GOP nomination.
HuffPost did not immediately respond to a request for additional comment.
Fox News' Kaitlyn Schallhorn contributed to this report.