Lea Michele suffers wardrobe malfunction on 'On My Way' video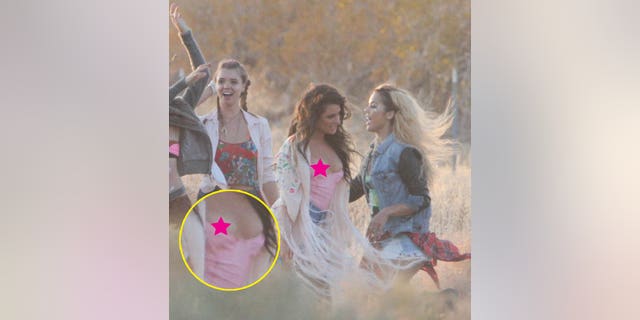 Lea Michele looked like she didn't have a care in the world while shooting her new music video, "On My Way," in a grassy field in Palmdale, California on April 19 — in fact, she was having so much fun she almost didn't even realize that her pink strapless bodysuit had fallen.
The 'Glee' star unleashed her inner boho chic babe for the shoot as she suited up in short denim cutoffs, a pale pink top, and an open tunic that featured fringe and embroidered flowers. "On My Way" is the second single off her debut album, and she danced around with friends and cozied up to a male model on location.
Michele jumped and danced around while filming, causing her to fall right out of her top.