Ladies Bash The Bachelor, Even In Song: 'You Really Didn't Take The Time To Get To Know Us'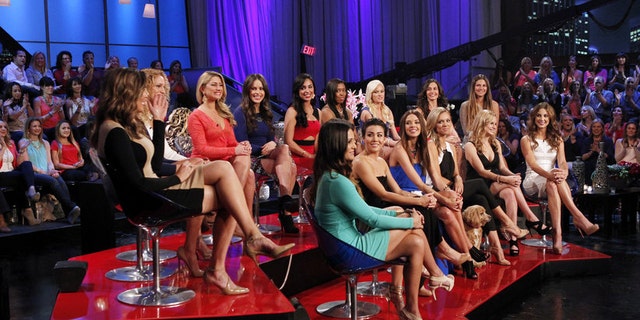 He may be searching for love, but 'Bachelor' Juan Pablo Galavis did not feel the love when the ladies opened up the flood gates against him Monday night.
In the traditional "Women Tell All" episode, the Venezuelan hunk faced every woman that he dumped – or dumped him – over the course of the last two months.
And even before he even entered the room, many of the girls bashed the former soccer player for not being genuine and appearing to be superficial.
They also slammed him for blaming Clare for their sexy nighttime romp in Vietnam and called him out for his controversial anti-gay remarks.
Sharleen, who famously left the show early after their trip to New Zealand, took the time to explain her reasons behind the move, saying she and Galavis really only had a "physical connection."
"I knew he wasn't the one for me ultimately," she said. "We just didn't get each other completely."
Picking up where she left off in her anti-Juan Pablo rants last week, Andi expressed her disgust for his behavior in the fantasy suite.
"It was all about him. I felt like he was being extremely negative about the process," said the lawyer, who also revealed she pretended to fall asleep to avoid talking to him after his comments about her being in the top three by default. "I think he actually thinks he was a great bachelor."
Galavis did have a chance to defend himself, but not before he was ripped even more by the ladies he dumped when he joined them on camera.
"We all came here looking for a husband," Andi told him. "Very seldom did you use the word wife, and I don't know if it's you weren't looking for a wife … and I think a lot of us are on the same page as far as you not really taking the time to get to know us."
The "Bachelor" defended himself, saying he took the show very seriously.
Kelly was the only one to call him out on his headline-making controversial comments about why a gay Bachelor wouldn't be a good example for children. Kelly said she actually has a gay parent and was deeply offended by his comments.
As he has said before, Galavis said his comments were "taken out of context."
"I love gay people. They were born that way," he said, adding he wanted to talk to her after the special. "I will not waste four minutes. I'd rather talk to you for an hour."
The bashing against Galavis was not just during Monday night's special episode.
Lucy, who was sent home earlier in the season, posted an original song on YouTube called "Ess Okay." The song, which she performed naked with a ukelele, was written for fun and bashes Galavis for being a total "meano."
She debuted the video on Instagram with the caption, "the moment has finally arrived! I give you...the Bachelor Reject Anthem. Original music and lyrics by the only and only #freespirit ME. I just want to show the world that you can make fun of somebody and still be funny rather than mean. #bachelorejects #bachelor #juanpablo #abc #bachelornation."
"The Bachelor" finale airs March 10 on ABC.
Follow us on twitter.com/foxnewslatino
Like us at facebook.com/foxnewslatino