Kylie Minogue fighting Kylie Jenner over trademark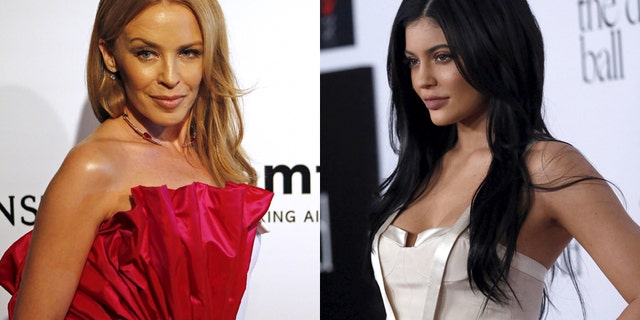 NEWYou can now listen to Fox News articles!
This world is only big enough for one "Kylie" according to pop star Kylie Minogue.
Last August, Kylie Jenner filed a USA trademark application for the name "Kylie" under advertising, reports the World Intellectual Property Review.
On February 22, the 47-year-old Australian pop star filed a notice of opposition to the 18-year-old's application claiming approval will confuse audiences and dilute her brand.
Minogue currently owns trademarks for "Kylie Minogue Darling," "Lucky- the Kylie Minogue musical" and "Kylie Minogue." The document also says she has owned http://www.Kylie.com since 1996 (it has been operational since 1998). The documents also point to Minogue's trademark for "Kylie" for entertainment and music recordings.
The "Can't Get You Out of My Head" singer slammed Jenner by calling her a "secondary reality television personality" who draws criticism from Disability Rights and African-American communities.
On Sunday, Minogue took to Twitter to cryptically address the trademark battle saying "Hello… My name is KYLIE #lightyears."
Last week's opposition is only the beginning. Jenner recently filed papers to trademark "Kylie" under entertainment services.
This article originally appeared in the New York Post's Page Six.