Kevin Spacey Supports Venezuelan Protesters, Bucking Hollywood's Chavismo Trend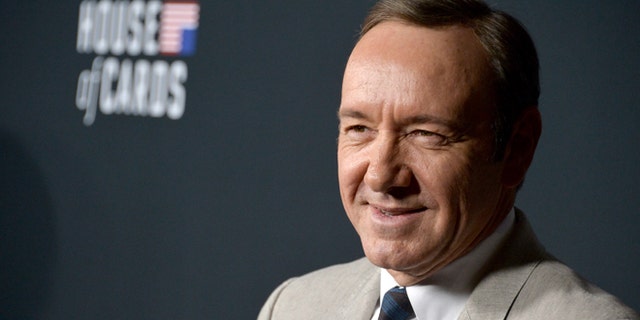 After a fictional dispute with China and turmoil inside the Washington Beltway, it looks like Frank Underwood is weighing in on Venezuela's dicey political situation. Or at least the actor who plays the ethically averse politician on the Netflix series House of Cards is.
Bucking many in Hollywood's pro Chavismo stance, Kevin Spacey wrote on his blog a fervent letter of support for the Venezuelan opposition groups protesting President Nicolás Maduro, the successor to late socialist leader Hugo Chávez.
"These students were standing for basic human freedoms and engaging in the right to protest, which is a sacred right whether in Boston, Belarus, or Venezuela," Spacey wrote on his website KevinSpacy.com. "The government of Venezuela responded with heavy-handed repression."
Spacey, who sat down with Chávez for a three-hour meeting in 2007 while scouting film locations, is one of the first celebrities to openly criticize the Maduro administration for its handling of the current unrest.
"I support all of the Venezuelans who peacefully and non-violently claim their right to self-determination and protest," Spacey added. "I hope you will join me in asking them not to give up and to not become numb to the violations and abuses committed against them. "
Venezuela's attorney general said that 39 people have been killed in protests against the Maduro government since Feb. 12.
"We have 39 fatalities from acts of violence...31 were civilians and eight were police and military personnel," Luisa Ortega said during a press conference last week.
The civilian fatalities include both opponents and supporters of the government, while the number of injured stands at 608, of whom 414 are civilians and 194 are government employees, she said.
Chávez and Maduro have gained the backing of many Hollywood actors and directors who are politically aligned with the government's social policies and left-wing stances on global affairs.
Director Oliver Stone has made a documentary about Chávez, actor Danny Glover called the deceased Venezuelan leader a "brother" and, in 2008, singer Harry Belafonte said millions of Americans support Chávez's socialist revolution.
More recently, Maduro announced that Sean Penn would be offering classes to students through the Foundation La Villa Del Cine in Caracas, according to a statement on the government's official website.
Penn, 53, is a well-known, longtime supporter of Chavez and his successor Maduro. When Chavez died last year, the famous actor declared that "Venezuela and its revolution will endure under the proven leadership of vice president Maduro."
Global leaders are hoping to solve the situation in Venezuela diplomatically, with South American nations urging the two sides to sit down and discuss a resolution.
Maduro said Monday that he had accepted the proposal of the foreign ministers from the Union of South American Nations to meet with representatives of the opposition.
"We had a rather broad conversation. They proposed to me to have a meeting tomorrow (Tuesday) with the opposition delegation and, well, I accepted, as I've been calling for political dialogue, for peace, for democracy for eight weeks," said Maduro in public remarks at the end of his meeting with the diplomats.
Efe contributed to this report.
Follow us on twitter.com/foxnewslatino
Like us at facebook.com/foxnewslatino