Kevin Hart's most controversial comments, from lewd Trump dig at MTV VMAs to Super Bowl rant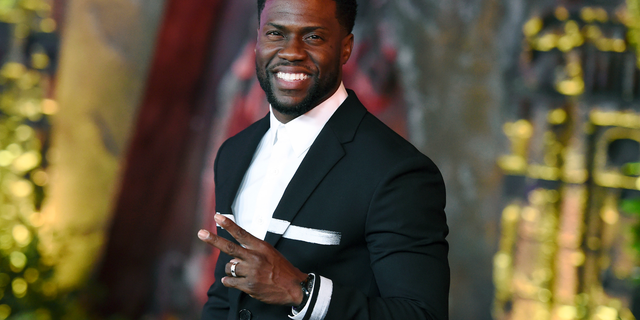 Kevin Hart has stepped down from hosting the 2019 Academy Awards.
The actor and comedian announced the news on Dec. 7, issuing an apology to the LGBTQ community for his "insensitive words" in the past.
"I have made the choice to step down from hosting this year's Oscar's....this is because I do not want to be a distraction on a night that should be celebrated by so many amazing talented artists. I sincerely apologize to the LGBTQ community for my insensitive words from my past," Hart wrote on Twitter.
His comments likely refer to those he made about his son during a 2010 "Seriously Funny" sketch where the 39-year-old "joked" about not wanting his son, who was 3 at the time, to be gay.
In another tweet Friday, Hart added, "I'm sorry that I hurt people.. I am evolving and want to continue to do so. My goal is to bring people together not tear us apart. Much love & appreciation to the Academy. I hope we can meet again."
The news comes two days after Hart announced he would be the 2019 host in an Instagram post, saying he was "blown away" because hosting the awards, which will be broadcast Feb. 24 on ABC, "has been a goal on my list for a long time."
KEVIN HART ANNOUNCES HE'S HOSTING THE 2019 OSCARS: 'NOW IT'S TIME TO RISE TO THE OCCASION'
Hart would have taken the position from Jimmy Kimmel, who has been the Oscars host for the past two ceremonies.
Hart has made headlines in the past for some of his outlandish comments, once taking a dig at President Trump while hosting a different awards show.
Read on for a look at some of the comedian's wildest comments.
"Joking" about not wanting his son to be gay 
In a 2010 "Seriously Funny" sketch, Hart said his "biggest fear" was his son Hendrix growing up to be gay.
"Keep in mind, I'm not homophobic. I have nothing against gay people. Be happy. Do what you want to do. But me, as a heterosexual male, if I can prevent my son from being gay, I will," he said at the time, detailing moments in which his son showed signs of what Hart described as homosexuality.
"Stop, that's gay!" Hart said he told his son in response.
Following his Oscars news Tuesday, however, many social media users took to Twitter to express their discontent with Hart being named host — resurfacing the comment and questioning whether the comedian is the right choice for the job.
"And the Oscar for most homophobic host ever goes to..." one Twitter user wrote, sharing the excerpt from the 2010 sketch.
"Kevin Hart is going to be hosting #TheOscars on a year that is set to honor many films that have queer characters (A Star is Born, The Favourite, Can You Ever Forgive Me?). Hart has said that one of his biggest fears is his son being gay... Read below for more. Pretty sad," another wrote.
In a 2015 interview with Rolling Stone, Hart opened up about the sketch, explaining the joke was "about [his] fear."
"It's about my fear. I'm thinking about what I did as a dad, did I do something wrong, and if I did, what was it? Not that I'm not gonna love my son or think about him any differently. The funny thing within that joke is it's me getting mad at my son because of my own insecurities — I panicked. It has nothing to do with him, it's about me," he said.
"That's the difference between bringing a joke across that's well thought-out and saying something just to ruffle feathers," he added, noting he wouldn't repeat the joke in today's age because "the times weren't as sensitive [in 2010] as they are now."
2018 MTV Video Music Awards
While presenting at the 2018 MTV Video Music Awards (VMAs) in August, Hart took aim at President Trump and told the audience they were "allowed to kneel," a comment which likely referred to the way some NFL players have protested during the national anthem at the start of games.
"[In] this game you're allowed to kneel," Hart said while presenting with fellow comedian Tiffany Haddish.
"You can do whatever you want, there's no old white men to stop you," he added.
The award show was like "a typical day at the White House," the 39-year-old also said.
"Beefs pop off, bad language, people run to the bathroom and send out crazy tweets," Hart said. "It's basically like a typical day at the White House. In your face Trump, suck it."
The lewd comment came after Hart was called out by comedian Kathy Griffin, who once faced backlash for holding a simulation of Trump's decapitated head, for not attacking the president during his comedy shows.
"I do feel like this is such an anxiety-ridden time for everyone that there is a thirst for all kinds of comedy," Griffin told USA Today in June.
"And look, if you want to not hear about Trump at all, go see Kevin Hart. He doesn't even mention Trump. I personally think that's a p---- move because he's a black man. But I guess he's selling more tickets than I ever will," she added.
Dropping the F-bomb after the Eagles' Super Bowl win
The ''Jumanji: Welcome to the Jungle" star and die-hard Eagles fan made headlines when he interrupted an interview with Eagles defensive lineman Fletcher Cox just after the team's 2018 Super Bowl win against the Patriots. At this moment, Hart dropped an F-bomb on live TV.
KEVIN HART SHOCKS WITH LEWD TRUMP DIG AT 2018 MTV VMAS, TELLS AUDIENCE THEY CAN KNEEL
"Philadelphia's a great city," Hart said. "I thought, I hope this is an example of what we can do. We gave a f--- … ooh."
"I'm out," Hart, who reportedly previously claimed he was intoxicated at the time, added before dropping the microphone.
WARNING: Expletive language below.
His "sexist" monologue on SNL 
Hart was slammed on social media following his opening monologue in a December 2017 "Saturday Night Live" episode that many users argued was sexist.
"You never heard a kid say, 'I can't wait to get home and play with my mom,'" Hart said as part of his monologue that detailed the different roles mothers and fathers play while parenting.
"You ain't never heard that. 'Can't wait for mommy and me time.' That don't exist. Don't no kids say that. All the fun responsibility lies on the shoulder of the father," he continued.
But the comment angered many, leading some to say the monologue was sexist.
"2017 has seen incredible progress for women. Kevin Hart's opening monologue belongs in 2016. Disappointed in @nbcsnl for a #sexist opening monologue #snl," one person tweeted.
"@KevinHart4real this is the most sexist opener I've heard. It's 2017. Women work. Men drop children off at school. It's called a partnership. #SNL," another wrote.
"Kevin Hart, do u know it's 2017?? This cold open would have been funny in 1950 #SNL," a third said.
Hart allegedly joked that dark-skinned women have "bad credit"
In 2010, Hart reportedly said on Twitter that light-skinned women "usually have better credit" than those with dark skin.
"Light-skinned women usually have better credit than dark-skinned women...broke a** dark h*** LOL," Hart reportedly wrote in 2010, according to BET.
After receiving backlash for the tweet – which resurfaced on Twitter earlier this year, according to Rolling Out – Hart told Playboy in a 2014 interview his tweet was "taken out of context."
"Listen, that was just me being silly on Twitter, playing on a trending topic," he told the publication, according to BET. "Some people were offended by it, but that's always a risk with comedy. Nobody's going to find everything funny. I didn't feel I had to apologize for something that was misconstrued and taken out of context. I have no ill will toward women, not dark-skinned women, not light-skinned women. I was just being silly. I'm a comedian. Being silly is my job; it's how I pay my bills."
Fox News' Mariah Haas, Lukas Mikelionis, Louis Casiano and The Associated Press contributed to this report.