Katie Holmes spotted spending time with... Colin Powell?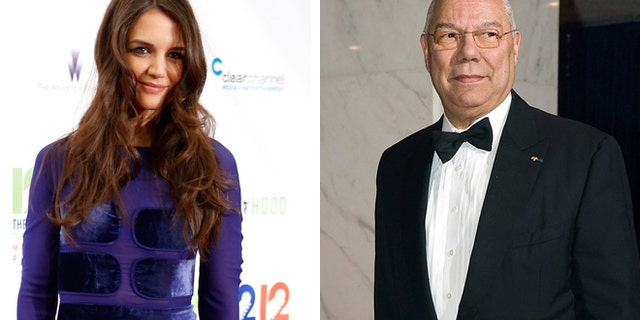 Katie Holmes rocked out onstage with Jamie Foxx, Lenny Kravitz — and Colin Powell — at Ron Perelman's Apollo in the Hamptons benefit Saturday night.
The actress jumped onstage with performers including Pharrell Williams, the Roots and Ciara. They were joined by Ellen DeGeneres and former Secretary of State Powell, who even sang a few lines of Robin Thicke's summer hit "Blurred Lines."
A relaxed and happy-looking Holmes, who wore a black cocktail dress and attended the party at Perelman's famous Hamptons estate the Creeks with two female friends, was later heard saying, "I haven't had such a good time in so long."
She danced all night and was seen shaking it with Foxx. Sources say Holmes and Foxx "are old friends."
Click here for more from The New York Post.