Kate Middleton criticized for wearing green to BAFTAs despite all-black Time's Up-inspired dress code
Fans have a royal bone to pick with Kate Middleton.
The pregnant duchess was criticized on Sunday for walking the red carpet in a flowy green gown at the British Academy Film Awards after attendees were encouraged to wear all black in support of the Time's Up movement. The all-black dress code first came up during the Golden Globes in January.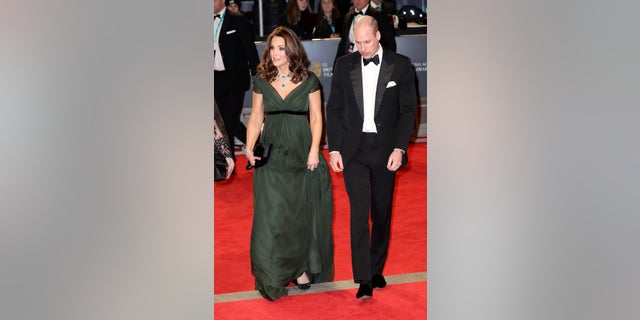 Middleton, who is expecting her third child with Prince William, had a black velvet ribbon underneath her bust. She accessorized with a black clutch and heels along with emerald jewelry.
The British royal family generally steers clear of getting involved with political issues of any kind. Members of the royal family are encouraged to stay neutral and don't vote in the elections.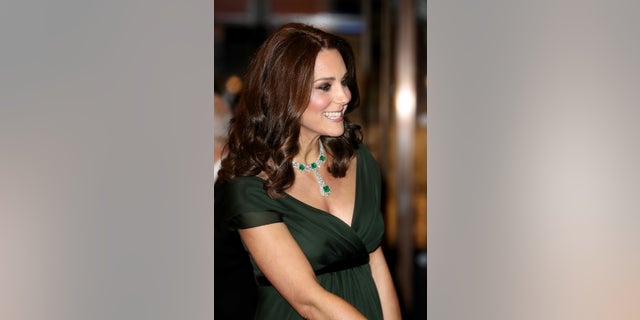 However, some viewers took to social media to criticize the 36-year-old duchess for not showing support for the women's movement. Many people said Time's Up isn't about politics, but rather about raising awareness about sexual harassment and assault against women.
"Disappointed in #KateMiddleton #DuchessofCambridge not wearing black to the #EEBAFTAs It's not a political thing. Its a woman thing! #TimesUp #StandTogether," one woman tweeted.
Another person wrote, "I know the Royals aren't supposed to get involved with 'protests' or anything… but would it really have been THAT bad for Kate Middleton to wear black???"
"Kate Middleton shuns #timesup black dress code, clearly not a woman's woman!" read another tweet.
Some people came to Middleton's defense and said the duchess was just following royal protocol. Actress Allison Janney also addressed the green dress controversy, saying she "would never judge anyone's choice."
"I think she looked absolutely beautiful, and I'm so happy for her, and I think she's an extraordinary woman. And I'm so happy to see she's pregnant again," Janney said, according to Digital Spy. "She can wear whatever she wants to wear."