Kaley Cuoco and new boyfriend kiss and tell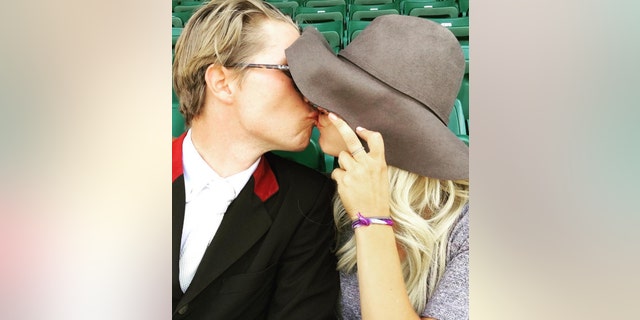 NEWYou can now listen to Fox News articles!
Kaley Cuoco and Karl Cook look so happy together!
The "Big Bang Theory" star posted another PDA snap with her equestrian boyfriend on Thursday, captioning the shot of the couple kissing, "Finally."
WATCH: Kaley Cuoco Talks Ex Ryan Sweeting and Current Boyfriend Karl Cook: 'I Fall in Love Really Hard'
Cuoco and Cook have been heating up and sharing photos together since March. The 30-year-old actress split with husband Ryan Sweeting in September 2015 after nearly two years of marriage and finalized their divorce earlier this month.
"You know what, I'm not ashamed of anything that happened," Cuoco said on CBS This Morning last week. "I fall in love really hard. I go deep and that person is it for me. I love hard, and when it's over, it's over."
WATCH: Kaley Cuoco Couldn't Even Handle Meeting Jennifer Aniston: 'It Was Like the Skies Opened Up'
"Some people make mistakes, and I wouldn't call it a mistake -- it's just what happened in my life, and now I'm excited to see what the future holds," she added. "But it happened, and now I have to say I'm happier than I've ever been."
We can tell!