Justin Bieber In Brazil: Reportedly Spotted In Brothel, Almost Hit By Bottle During Concert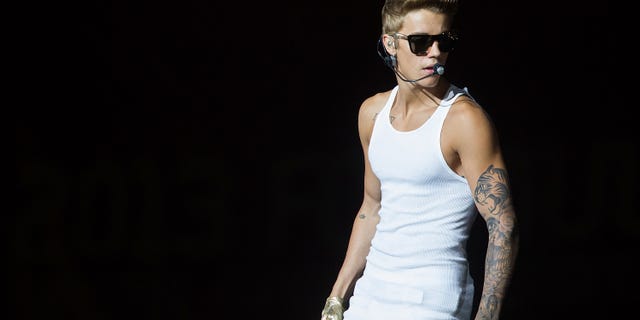 Teenage heartthrob Justin Bieber had an intense weekend during his stop in Brazil as part of the Latin American leg of his "Believe" tour.
Gearing up for his Saturday night performance, the "Heartbreaker" singer reportedly spent a night in a downtown brothel.
New York Post's Page Six reported the 19-year-old was reportedly seen trying to sneak out of the popular club Centauros in Rio de Janeiro on Friday – underneath a bed sheet.
Page Six, which posted several photos, claimed Bieber and a friend spent three hours in the sex den, and when he came out to leave, his bodyguards began to spray water at photographers.
The "Boyfriend" singer was then seen jumping into a car and two girls from the club were seen in a separate car following to the hotel.
While the photographs clearly identify Bieber – his gray wraparound wrist tattoo, his signature sneakers and his security team – Gossip Cop said the description of the venue he was seen leaving is "not entirely accurate."
A source told Gossip cop that it was a members' only club and that he was invited by friends.
A rep for the singer has refused to comment.
News about Bieber's trip to Brazil did not end there.
During his concert in Sao Paulo on Saturday night, the singer was hit with a water bottle near the end of his concert.
The bottle knocked the microphone out of Bieber's hand and the singer, who looked into the crowd before turning, stormed off without saying goodbye.
Fans waited for him to return for 30 minutes, but left disappointed when his team started packing up the equipment.
According to the Telegraph, a British newspaper, Bieber irritated fans before the concert, arriving an hour and 20 minutes late to the Anhembi Arena. He was also reportedly more than three hours late for a meet-and-greet with fans.
Follow us on twitter.com/foxnewslatino
Like us at facebook.com/foxnewslatino