Joy-Anna Duggar and Austin Forsyth open up about becoming parents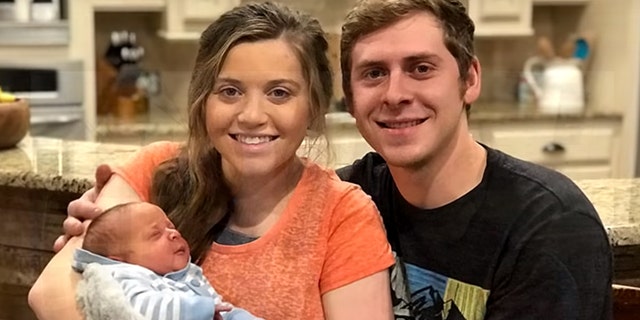 NEWYou can now listen to Fox News articles!
Joy-Anna Duggar is opening up about her experience as a mom since welcoming her son, Gideon, in February.
"I have to wake Gideon up at least twice a night to feed him to make sure that he's gaining weight because he'll just sleep and won't eat," Duggar, 20, revealed in a sneak peek on Monday's "Counting On" episode obtained by People Magazine.
She added: "Being a mom is in a lot of ways easier than I thought and then in a lot of ways, harder than I thought. I knew that my mom had gone through a lot with all of us kids, but I didn't think it was that hard just because I had always taken care of kids myself. But it's given me a whole new appreciation for moms out there that have kids."
In the clip, Duggar's husband, Austin Forsyth, also shared what he's learned about raising a newborn.
"The first week it was, 'Is the baby breathing?' I would just lay there and see if I could hear it and multiple times I got out of bed, you know, making sure [he] was breathing," explained Forsyth, adding that he thinks he is "finally coming to the realization that there's always going to be something for the rest of my life and the rest of his life."
"I think that's just part of my job as a dad," he said.
Forsyth, 24, also admitted he hadn't "really ever changed a diaper" before the couple had their baby boy.
"And then with Joy's C-section and her being kind of bed-ridden, just not really being able to get out of bed much, she probably changed maybe five diapers the first two weeks. So like diaper bootcamp," he said. "I got broke in."
People Magazine reported Duggar gave birth to Gideon on Feb. 23 via emergency cesarean section.
"Austin really stepped up, especially since I had a C-section, I couldn't really hardly get up at all by myself, he had to help me up and, I mean, do all the dirty work for me and for the baby. He's amazing," gushed Duggar. "I haven't ever seen a guy give so much of himself for his wife."