Johnny Depp serving as informal music consultant for Aerosmith, Steven Tyler says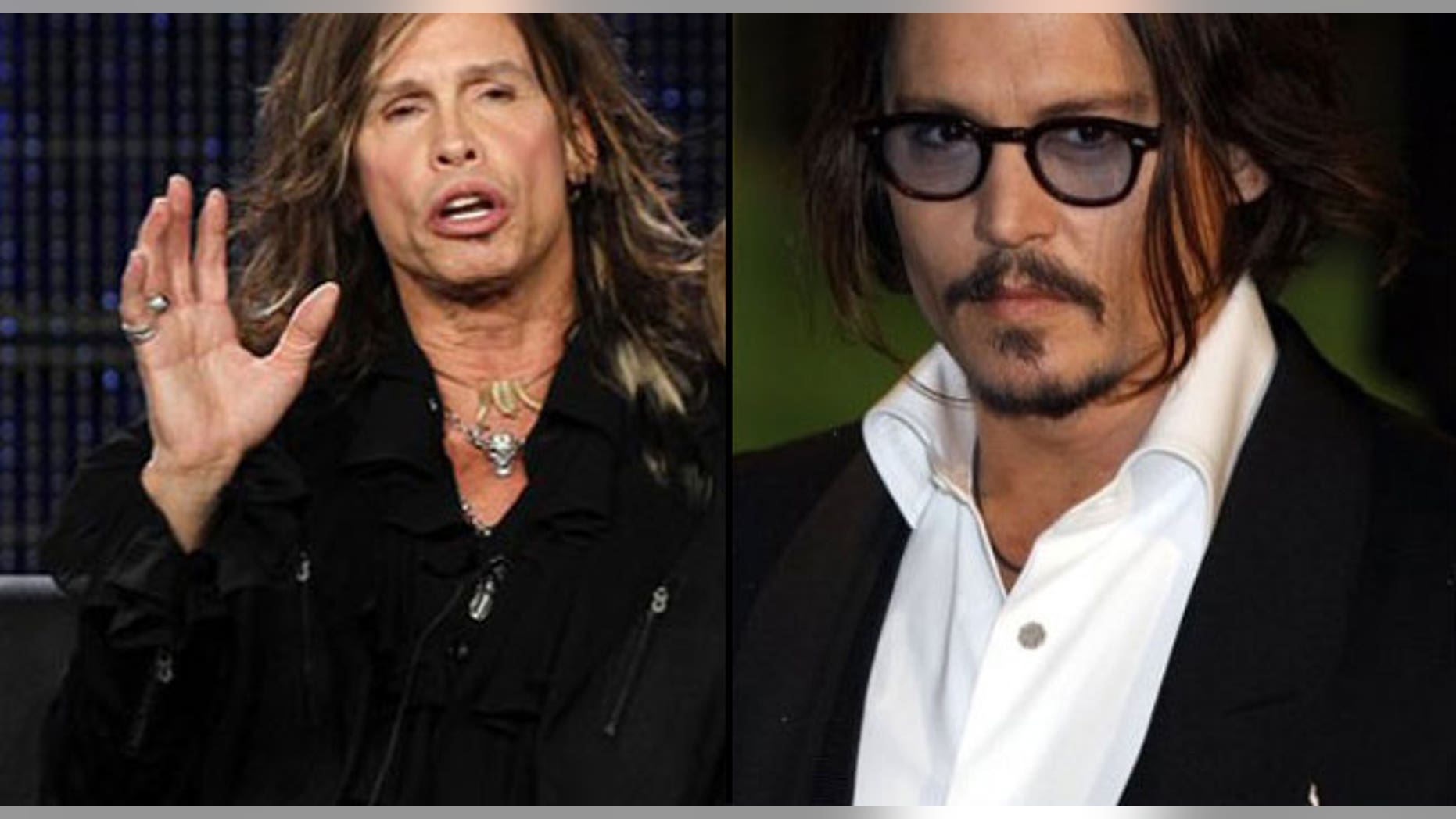 Steven Tyler took time out Monday night to support pal Johnny Depp at the Hollywood premiere of his new Tim Burton flick "Dark Shadows," although lately it seems Depp has been the one doing most of the devotion time.
"Johnny is a great musician and many people don't know that, he plays piano, guitar, he knows his music. We are actually in Tim Burton's old studio right now called Swinghouse doing our new Aerosmith album, and Johnny will come down every other night," Tyler told FOX411's Pop Tarts column. "And then when we are done recording I go up to Johnny's house and I play him stuff and ask if it is any good... He gives me (honest feedback)."
On the note of feedback, the "American Idol" judge lamented that the season is coming to a close, and that means more talented contestants being sent home.
"I am very sad, all the top 12 were so good. If I could spend three weeks with any one of them and write them a song they could be stars, they can all sing that good," he continued. "It is very sad to see them go. America takes their pick and it is a game show. Whoever is left standing gets to be the American Idol. But just like we've seen in past shows, whoever comes in third or fourth, have had great careers."
But Tyler wasn't the only rock legend on the premises at the star-studded premiere. Alice Cooper, who makes a cameo in the film as himself circa 1972, brought some edge to the glitz and glamour – and said that although forty years has passed, very little in the genre of rock has changed.
"Everyone thinks it has changed, but it is really about the same. The funny thing was the juxtaposition of our kind of music against disco which was going on at the same time," he said.
And at the time, Cooper was happy to carve his image as the bad boy.
"Rock n' roll was full of Peter Pans and there was no Captain Hook and I was gladly Captain Hook, I said I will gladly be the villain of this generation and it was much more fun to be the villain than to be the hero. You have so many more places to go musically. It was darker and sexier," he added. "45 years later I am still doing it, the same image. We were designed to really upset your parents."
And later that night, Cooper , Tyler and Depp did anything but upset when they performed on-stage together for rockin' the "Dark Shadows" post-party.