John Oliver slammed for 'controversial and partisan' mockery of Pence family bunny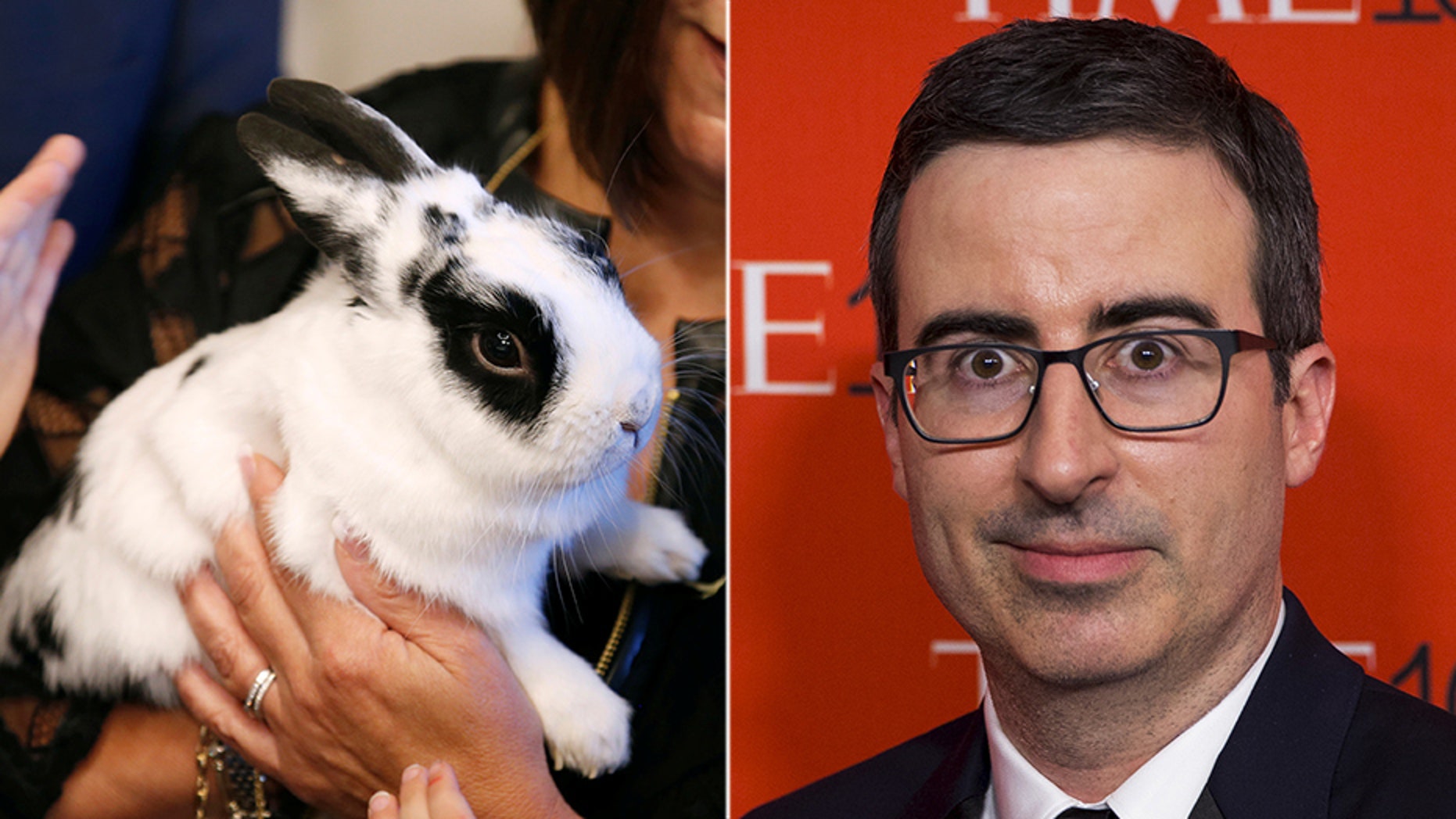 John Oliver may have gone too far with his latest viral stunt mocking Mike Pence and a children's book written and illustrated by his family. The late-night host saw some backlash on social media for going after a book that wasn't written by the vice president himself.
During his latest episode of HBO's "Last Week Tonight," the comedian dedicated a 20-minute longform segment to slamming Pence and his views on gay marriage and other LGBTQ rights. He concluded by noting that he had one nice thing to say about the vice president, and that was that he liked the Pence family's pet rabbit, Marlon Bundo.
Pence's daughter, Charlotte, released a children's book about the rabbit titled "Marlon Bundo's A Day in the Life of the Vice President," showcasing a day in the life of her father from the pet's point of view. Pence's wife, Karen, did the watercolor illustrations as well. Proceeds from the book will go to A21, a nonprofit dedicated to stopping human trafficking, as well as an art therapy program at Riley Hospital for Children.
Oliver, meanwhile, released a parody book titled "Last Week Tonight with John Oliver Presents A Day in the Life of Marlon Bundo." The story features Marlon Bundo meeting a boy bunny and deciding to get married. However, their path is blocked by a stink bug that declares boys have to marry girls. For the audiobook version, celebrities such as Jim Parsons, Jesse Tyler Ferguson, Jeff Garlin, Ellie Kemper, John Lithgow, Jack McBrayer and RuPaul stepped in to do some voice acting.
Proceeds from Oliver's book go to The Trevor Project, a crisis intervention and suicide prevention service for LGBTQ youth, as well as AIDS United. As of Monday, Oliver's parody book is number one on Amazon's best sellers list, while the Pence family story only reached fifth place.
Despite the mostly positive reviews from people who support Oliver, a few have come forward on social media to denounce the situation.
"John Oliver is an a------. VP Pence is a better man than him. Oliver has no morals and is a disgusting human being. Pence's wife and daughter are wonderful people and do not deserve the treatment they are getting from the animals on the left," one Twitter user wrote.
"Yuck, John Oliver. Pence is fair game, but an innocent children's book written by his (apolitical) daughter is not. Punching down is not funny," another noted.
Even left-leaning fans took note that the entire campaign seemed like a mean-spirited gesture on Oliver's part.
"If we won't call out bullies because they are on 'our side,' what does that say about us? John Oliver should be ashamed of himself for setting a mob out to hurt Mike Pence's daughter and her book as a way to punish the Vice President," another Twitter user wrote.
"It's unfortunate that anyone would feel the need to ridicule an educational children's book and turn it into something controversial and partisan," a spokesperson for Regnery Publishing, which released the Pences' book, told CNN.
Meanwhile, the Amazon page for Oliver's book has been inundated with negative speech about Pence himself, with several refering to him as a "homophobe" and calling him "disgusting" and "vile" while simultaneously encouraging people to buy Oliver's book and boycott Charlotte Pence's.