Joe Jackson, patriarch of the Jackson family music group, dead at 89
Joe Jackson, the patriarch of the Jackson family music group and father of pop icon Michael, has died following a cancer diagnosis. He was 89.
On Wednesday, his daughter, La Toya Jackson confirmed the news on Twitter.
"I will always love you! You gave us strength, you made us one of the most famous families in the world. I am extremely appreciative of that, I will never forget our moments together and how you told me how much you cared. #RIP Joe Jackson," La Toya, 62, wrote along with a video of her and her late father having lunch together.
The famous patriarch was best known for his complicated relationship with late son Michael Jackson.
Michael Jackson's estate released a statement mourning the death.
"We are deeply saddened by Mr. Jackson's passing and extend our heartfelt condolences to Mrs. Katherine Jackson and the family. Joe was a strong man who acknowledged his own imperfections and heroically delivered his sons and daughters from the steel mills of Gary, Indiana to worldwide pop superstardom," said John Branca and John McClain, co-executors of the estate.
TMZ reported Friday that Jackson had been battling cancer for "some time" but was now "at the end stages."
According to the outlet, his wife Katherine and some of his 11 children and grandchildren flew to Las Vegas to be by his side. Jackson's famous brood includes Randy Jackson, Janet Jackson, La Toya Jackson, Jermaine Jackson and more.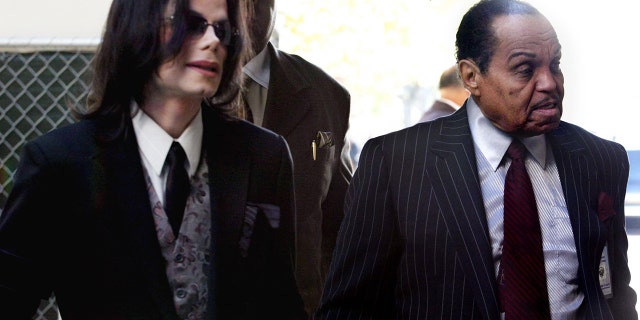 Jermaine told the Daily Mail June 20 that he and his siblings were struggling to get information on their father's condition.
"No one knew what was going on — we shouldn't have to beg, plead and argue to see our own father, especially at a time like this," he told the outlet at the time. "We have been hurting. We were not being told where he was and couldn't get the full picture. Even from the doctor. My mother was worried sick."
The 63-year-old added, "He's very very frail, he doesn't have long. The family needs to be by his bedside - that's our only intention in his final days."
On Sunday, Jackson tweeted, "I have seen more sunsets than I have left to see. The sun rises when the time comes and whether you like it or not the sun sets when the time comes."
Michael Jackson, who died on June 25, 2009, released a shocking tell-all in about his father in 1988, which was edited by former first lady Jackie Kennedy Onassis, according to The New York Daily News.
Michael claimed his father beat him.
"My mother told me I would fight back even when I was very little, but I don't remember that," wrote the King of Pop. "I do remember running under tables to get away from him and him getting angrier."
Michael alleged his father turned violent during rehearsals with The Jackson 5.
"If you messed up you got hit, sometimes with a switch, sometimes with a belt," Jackson wrote. "Dad would make me so mad at him that I'd try to get back at him and get beaten all the more."
"We had a turbulent relationship," he admitted. "Most of the time we just rehearsed. We always rehearsed... He's still a mystery man to me and he may always be one."
Joe Jackson is survived by his wife, his children and more than two dozen grandchildren.
The Associated Press contributed to this report.