Joanna Gaines opens up to Jenna Bush Hager about feeling mom guilt: 'It paralyzes me'
Joanna Gaines is opening up about all aspects of motherhood.
The "Fixer Upper" alum — who is mom to sons Drake, 14, Duke,10, and Crew, 8 months, as well as daughters Ella, 13, and Emmie, 9 — recently spoke to pal Jenna Bush Hager for an interview with Southern Living, in which she talked about all things parenting and revealed that she suffers from mom guilt
"I've been through plenty of stages of guilt," the 40-year-old designer and reality star admitted to Hager. "It always creeps in. It paralyzes me. I don't want to waste a second of emotion on something that doesn't create any good."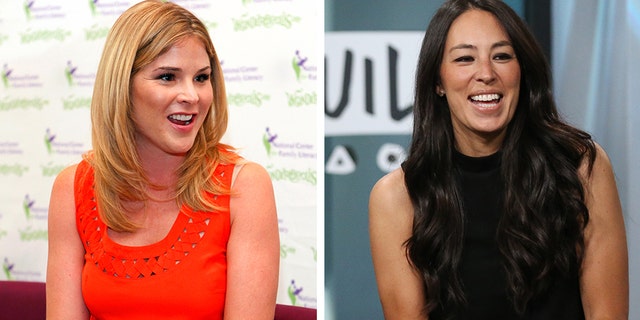 JOANNA GAINES OPENS UP ABOUT THE PRESSURES OF SOCIAL MEDIA
As for how she gets rid of the guilty feeling, the mom of five said that she asks herself: "'What can I do to show my kids that I love them?'"
"Even if it's making a cup of hot cocoa, which takes a few minutes," Gaines explained. "It's about finding little ways to connect."
When asked about the biggest surprise since becoming a mother, the Waco-native said she didn't realize how much her little ones, with husband Chip Gaines, would change her life.
CHIP AND JOANNA GAINES ANNOUNCE THEY ARE RETURNING TO TV WITH THEIR OWN DISCOVERY NETWORK
"You just think kids will fit into your life, and then I had these babies and didn't realize how they would have every string of my heart," the Magnolia brand mogul gushed. "Everything I do, from the moment I get into my car to drive to work, I'm thinking, 'Did I do everything I could to make those kids know that I love them?'"
Gaines, who describes herself as a "segmented person," noted that "there is not a moment when they're not in my mind.
"I never thought it would be like that," she added.
It goes without saying that motherhood is "everything" to Gaines, who is gearing up to release her first-ever children's book "We Are The Gardeners" — which was co-written by her kiddos — in March.
"Everything else in my life can go away, but that's my thing," she shared. "That's what wakes me up. It's my heart – these kids."