Joan Rivers makes fun of Adele's weight on Letterman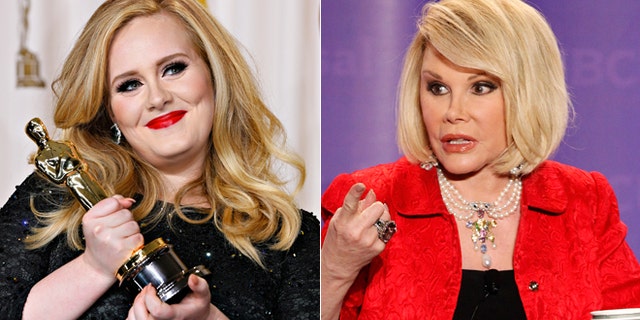 Who doesn't love Adele? Joan Rivers, apparently.
The typically uncensored "Fashion Police" host made some harsh comments about Adele's weight during her appearance on "The Late Show With David Letterman."
When speaking about her experience attending the Oscars, Rivers gushed that she got to meet Adele. But after Letterman replied, calling the singer a "lovely woman," Rivers held out her hands widely around her and puffed out her cheeks, taking an obvious crack at Adele's weight.
The audience booed Rivers, who scoffed at their response.
"What's her song? 'Rolling in the Deep'? She should add fried chicken," Rivers quipped.
After a moment, Letterman quickly changed the subject and Rivers followed suit.
But the comment wasn't the first time the comedian has mocked the singer's weight.
After the Oscars, Rivers tweeted: "On Sunday night, you could easily pick Adele's Oscar statuette out of a lineup. It was the only one wearing Spanx."
Similarly, shortly after the signer gave birth last year, Rivers reportedly tweeted: "Congratulations to Adele on the birth of her 68 pound 8 ounces bouncing baby boy."
[youtube nUO3xic7RrY#!]