Jessica Simpson's Three-Way Kiss and Johnny Carson's Sex Tape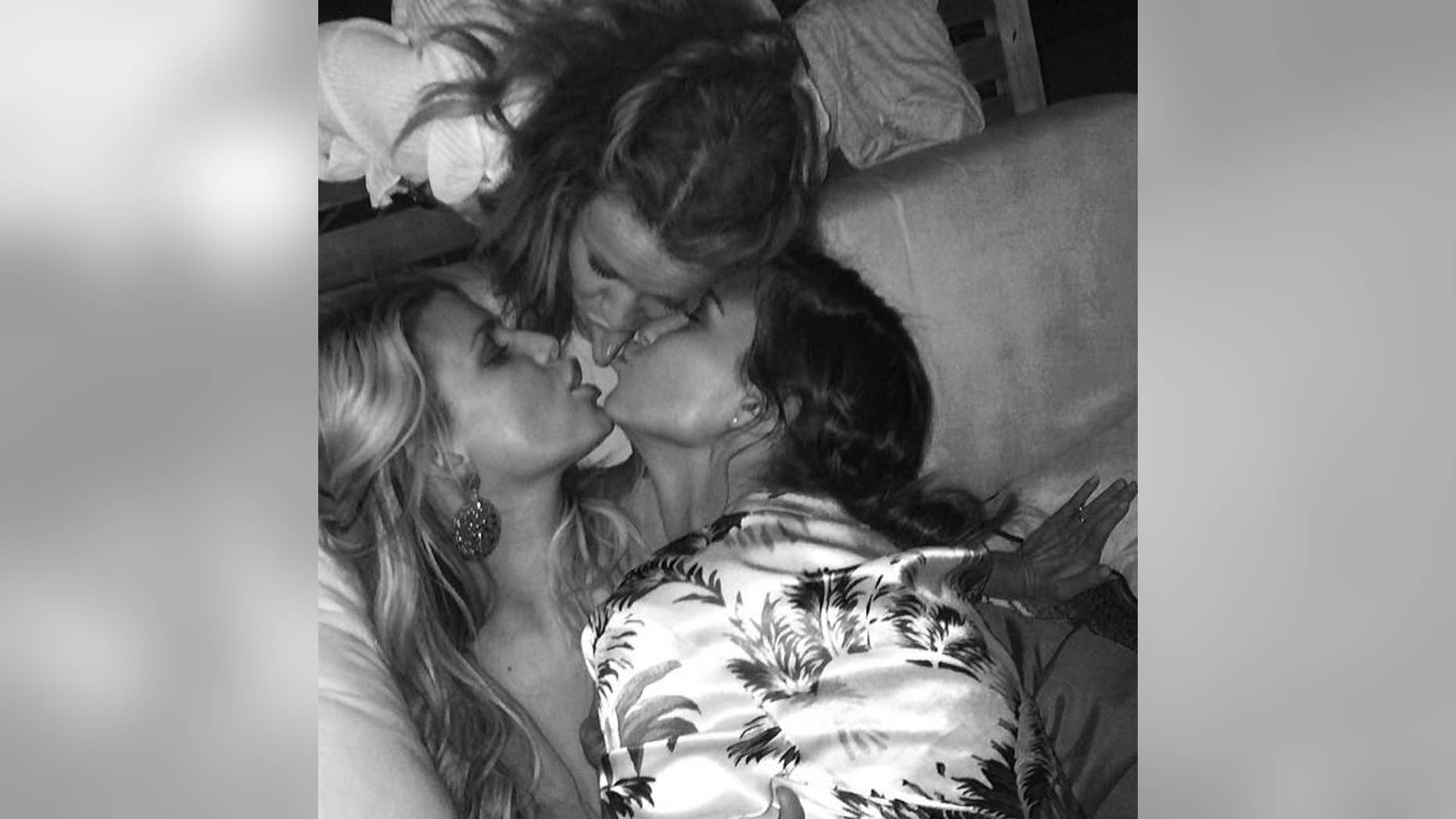 Here's what's happening today:
William and Kate have angered the public by going on vacation without little Prince George, whom they left in the care of Kate's mom and dad. Apparently, the notion of "babysitting" is a new and controversial topic in Britain.
Presumably realizing that she can't stay in the headlines by wearing tiny dresses in her Weight Watchers commercials, Jessica Simpson posted a picture to Instagram featuring herself and two friends gearing up for a three-way kiss.
Justin Bieber and Selena Gomez are hanging out again, or at least they were as of Friday morning. The two enjoyed a lovely breakfast together in McAllen, Texas, while Bieber's four bodyguards stood watch nearby.
If you can believe it, there's a Johnny Carson sex tape featuring the iconic late-night host getting busy with one of his wives — it's actually unclear which one, though. Reports also didn't mention if Carson was completely nude in the footage, or if he wore a large floppy hat like Carnac the Magnificent.
Robin Thicke is reportedly making some headway with wife Paula Patton, as sources tell TMZ that she isn't likely to follow through with a divorce. She hates when he brings up their troubled marriage at his concerts, though.
Nearly three years after her last album, Miranda Lambert will finally be releasing "Platinum" in June. Seems like a bit of a presumptuous album title, but whatever.
"Girls" actress Lena Dunham hosted "Saturday Night Live" over the weekend, and of course she got naked for one of the skits.
George Clooney's ex-ladyfriend Stacy Keibler got married on Saturday to Jared Pobre, her boyfriend of seven months. Clooney will probably do something Clooney-esque to congratulate her on the nuptuals, like instantly become best friends with Pobre or invite them both to his lakeside villa.
Eight years after Crocodile Hunger Steve Irwin's death, his best mate is sharing Irwin's last moments and the giant stingray that ended his life.
Ke$ha is reportedly seeking a fresh start after completing rehab, so she's officially decided to drop the "$" from her name. (Great. Now we need to go get our Ke$ha tattoos covered up.)
It's official: Khloe Kardashian has purchased Jusin Bieber's former Calabasas home, as well as any yet-to-be-found stashes of cough syrup and Xanax.
Jennifer Aniston did an interview with Self magazine, in which she claimed she wants Gisele Bundchen's body. (You and everybody else, Rachel.)
Lindsay Lohan's "Lindsay" docu-series debuted on OWN debuted this Sunday, and much like the rest of Lohan's professional work, it's extremely mediocre. But Lindsay shouldn't fret, becuase she's probably getting $1 million from HarperCollins to "write" her memoir.
Prince Harry and Cressida Bonas engaged in some PDA at Twickenham Stadium, where they watched some sort of English sporting event that was probably either soccer or rugby. (Do we even care?)
And finally, Mark Wahlberg has been announced as the recipient of this year's Generation Award at the 2014 MTV Movie Awards, which will recognize the actor's accomplishments in punching, kicking, and entering into a hamburger franchise.