Jennifer Lopez, Lin-Manuel Miranda team up for song to benefit Orlando victims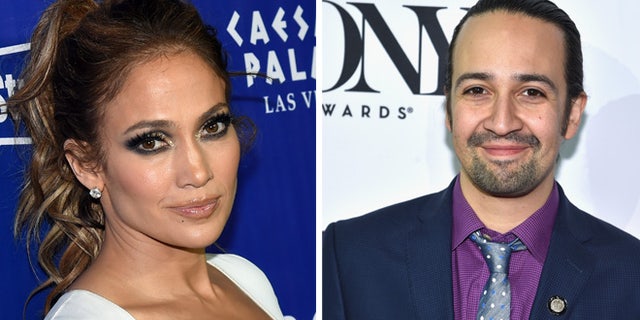 NEWYou can now listen to Fox News articles!
Two of the hottest Puerto Ricans in the world of music have teamed up for a new track to benefit the victims of the Orlando massacre.
Lin-Manuel Miranda, creator of the Broadway smash, "Hamilton," and pop sensation Jennifer Lopez teased their collaboration, "Love Make the World Go Round," on social media Monday.
"Me and @Lin_Manuel working in studio on something very special," Lopez tweeted with a 30-second clip on the song.
Miranda shared the same video, writing: "Sooo @JLo & yours truly went in on a tune that will benefit https://hispanicfederation.org/SomosOrlando/ Here's a taste!"
In the track Miranda raps while Lopez belts out vocals.
"What we got is love, even when the sinners hate us," Miranda intones. "We cannot let 'em diminish or intimidate us. We sing out. We got the rhythm and truth on our side. We cut through the divide, and we do it with pride."
Lopez comes in on the refrain, "Love make the world go around."
Proceeds of the song are slated to go to the Hispanic Federation's Proyecto Somos Orlando.
This new single comes just weeks after 49 people were killed at a gay night club in Orlando. The majority of the victims were Latinos, many of them of Puerto Rican descent.
At the Tony Awards last month – held just hours after the shooting – Miranda also paid tribute to the victims of the mass shooting during one of his acceptance speeches.
"We chase the melodies that seem to find us, until they're finished songs and start to play, when senseless acts of violence remind us that nothing here is promised. Not one day," he said, struggling to fight back tears while accepting the award for best score.
"This show is proof that history remembers. We live through times when hate and fear seem stronger, we rise and fall and light from dying embers, remembrances that love and hope last longer, and love is love is love is love is love is love is love is love cannot be killed or swept aside."
He also joined the likes of Gloria Estefan, Audra McDonald, Idina Menzel, Wayne Brady, Matthew Broderick and other Broadway stars to record the 1965 Hal David and Burt Bacharach classic, "What the World Needs Now Is Love," to benefit the LGBT Center of Central Florida.