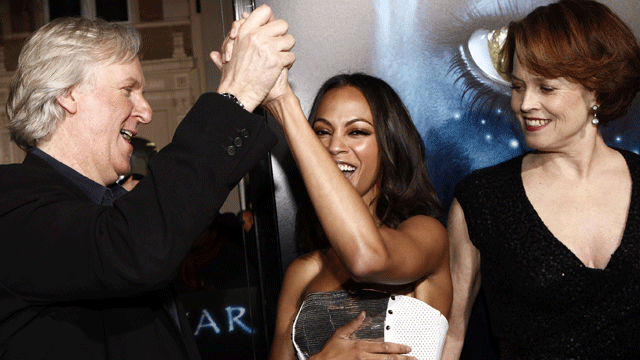 Will he or won't he?
There has been a lot of speculation over recent months as to what Arnold Schwarzenegger will do when his term as the 38th governor of California ends in thirteen months.
While there have been rumblings Schwarzenegger may run for the United States Senate, his longtime friend and former colleague James Cameron (who directed Schwarzenegger in the 'Terminator' films and 'True Lies') thinks we might just see him back on the big screen.
FOX411 MOVIE PICKS: 'Avatar' a 'Must See.'
"When's he's done running the fifth largest economy in the world, he'll probably want to come back to acting," James Cameron told Pop Tarts at Wednesday's Hollywood premiere of "Avatar," which opens nationwide Friday night. "Although I can't speak for him, I know he loves it."
The Governator was apparently already treated to his very own screening of Cameron's highly-anticipated flick.
"Arnold Schwarzenegger said this to me when he saw the film, 'This is not a movie, it's an experience'," Cameron said. "That's what we tried to do with the 3D and with the photo-real CG, where we create this world and all these creatures [and] take you on a journey, an experience, spit you out at the other end of it two hours and forty-one minutes later saying 'What the hell did I just go through?'"
"I was crying," Cameron added. "I felt moved by blue people."
And while the "Titanic" director has a rep in Tinseltown for being pretty tough, 'Avatar''s star Sam Worthington said Cameron's a big softie - with claws.
"Jim's a pussycat. He's dedicated to what he does," Worthington said. "He's passionate about making films and he raises the bar but gives you the courage to jump over it."