It's not your parents' Weather Channel anymore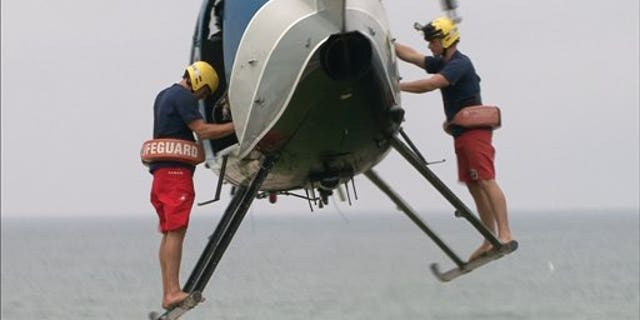 NEW YORK – The Weather Channel is in the midst of a transformation, one that can be traced in part to an idle afternoon Al Roker spent surfing the Web a couple of years ago.
Pleased with the ratings earned by some new series, the network is increasing by 70 percent the amount of original programming it had planned to offer this year, and will debut at least one new show each month for the rest of the year.
Once the home primarily to meteorologists standing in front of maps, the new Weather Channel will be featuring Arctic pilots, iron workers, wind turbine and power line repairers and Coast Guard rescuers in both icy and tropical climates.
"It's an evolution, not a revolution," said Michael Dingley, the network's senior vice president of content and development, who came to The Weather Channel from HGTV 10 months ago. "You want to respect the core viewers, but let's invite new viewers into the tent."
That is an old motivation for profit-hunting cable networks, who know the key to success is grabbing casual viewers and holding them. The same forces compelled MTV to move away from music videos two decades ago, and has transformed History into more than a place for musty war movies.
The Weather Channel recognized that it needed things to keep people watching for longer than it took for the next local forecast to pop up. Past attempts at programming, series like "Storm Stories," tried this with a focus chiefly on the weather. Now network managers are embracing programs where the weather or other natural forces are just one of many characters.
The old Weather Channel would not have considered "Ice Road Truckers," History's hit series about freight-haulers braving treacherous conditions in Canada, for example. Now it clearly would, since this month the network premiered "Ice Pilots," about people who fly in those conditions.
"Coast Guard Alaska," which details rescues in a forbidding climate, has done so well since its November premiere that The Weather Channel already has ordered a spinoff series involving a U.S. Coast Guard station in Florida.
The Coast Guard series came from Roker, who while Web surfing one afternoon noticed some rescue videos that the agency had posted on YouTube. He quickly set up a meeting with the Coast Guard to put the series together.
Viewers know Roker primarily for trading quips and giving forecasts as part of the "Today" show team, but off-screen he operates a thriving production company that supplies material to Spike, HGTV, A&E, The Cooking Channel and now The Weather Channel.
"The previous management didn't really see the big picture," Roker said. "They didn't think the audience would watch these kinds of shows."
The premiere of "Coast Guard Alaska" increased viewership in its time slot by 35 percent over the previous four weeks' average, Nielsen said. The first "Ice Pilots" increased the audience size by 60 percent.
The Weather Channel feels freer to offer these series partly because up-to-date forecast information is available through TWC online or on mobile devices, Dingley said. The Weather Channel named a new chief executive in January whose top priority is growing the network's website and mobile applications.
While the new shows have helped ratings, The Weather Channel executives must be mindful of a wary fan base that insists upon weather being the top priority. Viewers were sharply critical last spring, and TWC meteorologist Jim Cantore tweeted an apology, when the network did not interrupt a movie to cover a tornado outbreak in Arkansas.
The network has ditched movies, Dingley said.
Managers deserve credit for making "down time" at The Weather Channel more interesting, and half-hour series offer a better chance for flexibility when urgent weather news makes it important to cut into prerecorded programming, said Mike James, who runs the News Blues website and has been critical of some network moves.
James said he worries that weather will become secondary to profit-seeking at The Weather Channel, which was bought in 2008 by a consortium of Bain Capital, The Blackstone Group and NBC Universal. NBC has a highly profitable stable of cable networks like USA and Bravo.
"Lately I've been calling it `The Advertising Channel,"' James said. "I challenge you to visit TWC in prime time and not hit a commercial in progress."
Dingley said he recognizes change can turn off some old viewers. But he noted that TWC continues to offer local weather forecasts every 10 minutes, even during entertainment programming.
The network aired a two-hour block of entertainment programming three nights a week when Dingley arrived, and quickly expanded that first to five and now seven nights. The 70 percent expansion in programming recently authorized will mean more new shows and fewer reruns within those two-hour blocks, he said.
Eventually, however, the goal is to expand to three hours of entertainment programming in prime time and air some of those shows during the day, he said.
Last month the network began airing "Lifeguard!," about beach rescuers in southern California. April brings "Turbine Cowboys," about people who build and maintain wind turbines. "Iron Men," about New York ironworkers, starts in May. "Lights Out," in June, is about an Arkansas crew that restores power after severe weather. July brings the hurricane season and "Hurricane Hunters," a series about people who fly into storms to collect weather data.
If the new shows are well chosen, Roker said he believed The Weather Channel viewers will embrace them.
"Everybody needs to evolve," said Roker, who also hosts the "Wake Up with Al" forecasting show early on weekday mornings. "The History channel has a new definition of what history is on their channel. A&E has redefined who they are. If it's a good story and well told and you're not talking down to the audience, I think it's going to do well."
The Weather Channel "is a different channel today than it was even a year ago," Roker said, "and I think it's for the better."