Is Anna Wintour pressuring designers to steer clear of Ann Romney?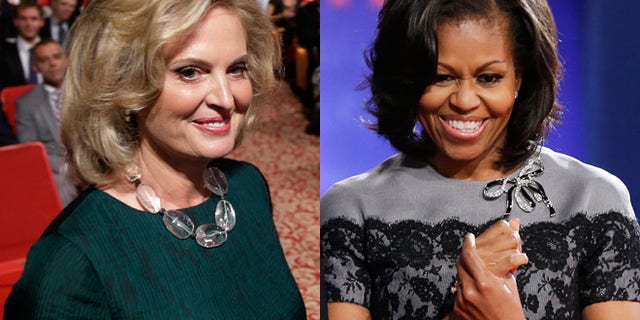 NEWYou can now listen to Fox News articles!
LOS ANGELES – "Honored to see First Lady Michelle Obama wearing our Spring 2013 dress at the final presidential debate," boasted the Twitter account of fashion label Thom Browne soon after Monday night's debate. Yet over at the Twitter account of OscarPRGirl, the official publicist for Oscar de la Renta, not a word was uttered about the fact that Ann Romney had donned a dark teal dress from the designer's collection.
But that's nothing new.
Designers, stylists and fashion industry publicists routinely clamor to outfit First Lady Michelle Obama, with press releases flying out the door any time she sports a certain brand. Fashion publications praise her designer selections and several books have been published that are solely devoted to analyzing her style and taste.
However, the fashion world has remained particularly quiet on the Ann Romney fashion front, with many questioning whether or not outspoken Obama supporter Anna Wintour is keeping stylists and designers away, silently threatening their standing should they endeavor to promote their outfitting of the wife of a Republican presidential hopeful.
Over the past year, the Vogue matriarch – who many say has enough power to make or break fashion careers – has become one of President Obama's leading financiers. Wintour has raised over half a million dollars for the incumbent, hosted numerous lavish dinners in his name and even enlisted designer pals like Marc Jacobs and Thakoon Panichgul to design pro-Obama products.
"Wintour's connections and influence in Hollywood, fashion, and society aren't merely pretty, shiny things to have around; they have become vital to the financial success of the campaign," wrote Noreen Malone in the November edition of The New Republic. "She is in search of something more than a victory in November; she wants politics to take fashion seriously."
And according to fashion industry pros we talked to, no one wants to risk annoying Wintour.
Hayley Phelan of Fashionista.com pointed out that during last month's political conventions, the site received several notices pertaining to Michelle Obama's wardrobe, while not a single word was uttered from Oscar de la Renta's PR team when Ann wore one of the American designer's gowns. And after Romney sported a Diane von Furstenberg wrap dress, the DVF team went as far as to distance themselves from Romney by reportedly claiming that they were unsure how she obtained the dress. Clearly, it wasn't sent to her in a nicely-wrapped package with a note of gratitude.
According to Women's Wear Daily, 53.9 percent of fashion industry campaign donations went to Obama, while only 45.9 percent went to Republicans. "The fashion industry is predominantly on the left," said fashion publicist Lee Everett of LaunchPad PR, noting that many brands and designers fear being associated with the GOP. "It's such a disservice to so many brands who could benefit, to the other '50 percent' of the country. For the sake of the fashion industry, it should remain apolitical."
Yet others doubt Romney is getting the cold shoulder from the predominantly liberal fashion world, or that Wintour's own political preferences have instilled fear in any designer who dares dress the GOP nominee's wife.
"It is just that Michelle brings such a unique, vibrant and youthful style and the average woman can see herself wearing many of her outfits, so designers want everyone to know that she is wearing their clothes," explained entertainment/lifestyle commentator Valerie Greenberg. "And even though Anna Wintour has a reputation for being tough, I don't think she would let her political views dictate the designers she chooses to feature in the pages of Vogue."
A rep for Vogue also says that the idea Wintour has influence over designers' relationships with Anne Romney is "completely false."
Emmy-winning stylist and author David Zyla, who has previously outfitted political figures including Hillary Clinton, said that is simply hard for anyone to measure up to Michelle Obama, who roused the industry after the eight years of the simple style preferred by former First Lady Laura Bush.
"Unfortunately whoever came along in 2012 as a First Lady contender was going to have a tough fight winning in the fashion arena," he said. "It does not appear that Ann Romney is being snubbed by the fashion industry, but designers do seem to be employing a bit of caution in their approach of her. Perhaps it is due to the fact that we have yet to get a comprehensive glimpse into Mrs. Romney's fashion personality, or that designers are skittish not about how she will appear in their clothes, but more importantly how she will style and accessorize them."
Irrespective of whether or not Wintour and the fashion industry are indeed dismissing Ann Romney, there's no way they can continue to ignore her if she becomes America's First Lady.
"Anna Wintour will have no power to block Ann if her husband is elected President, it will be a totally different ball game. I think then we will see the Carolina Herrera's and Oscar de la Renta's coming out. Let's face it, regardless of whether you are a Republican or Democrat, everyone wants to dress the First Lady," said celebrity stylist Amanda Reno. "It is like an actress who comes to Hollywood. No one cares about her until she gets her first big movie, then all of the designers will fall over themselves to dress her. For Ann Romney, getting into the White House is like getting that big movie."