Barbra Streisand asks for 'emergency contribution' from Obama supporters: Are Hollywood Democrats panicking?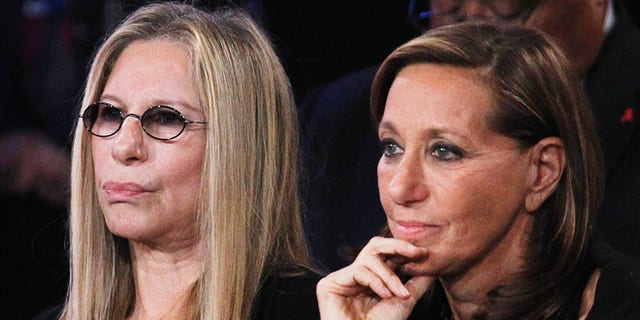 NEWYou can now listen to Fox News articles!
With the Presidential election just two weeks away, prominent Hollywood Democrat Barbra Streisand has sent an "emergency" email to the entire Democratic Congressional Campaign Committee (DCCC) mailing list, urging all recipients to dig deep into their pockets for last minute Obama campaign donations, according to The Hollywood Reporter
"The Democratic Party urgently needs your help. We're just weeks from the most important election in a generation and every single thing Democrats like you and I spent a lifetime fighting for is on the line. Republican Super PACs are pounding President Obama and Democratic candidates with millions of dollars of vicious attack ads. And, they could tip the balance of the election for Tea Party extremists," she wrote in the mass note. "That would be a disaster for America and we can't let it happen. We must close the funding gap, It's up to you and me to make this happen. Please rush an emergency contribution right away while there's still time. President Obama needs a new Democratic Majority to get America moving again."
According to some political experts, Streisand's message is a sign that liberal Hollywood is starting to panic.
"They can read the poll numbers as well as anyone, and their guy is losing ground. Plus, celebrities are nothing if not superficial, and a big part of Obama's appeal to them has been charisma," Matt Philbin, Managing Editor of the Culture and Media Institute, told FOX411's Pop Tarts column. "The 'optics' of the first presidential debate must have been jarring."
Jeff Roe, GOP Political Consultant and founder of Axiom Strategies, concurred that the possibility Obama may be a one-term president is prompting some celebrities to "pull out all the stops to prevent a family-oriented, business-oriented, wholesome individual to the Office of the President."
"When Hollywood liberals begin to panic, you know you are doing something right," he quipped.
Streisand's urgent DCCC email isn't the only recent indicator of election anxiety amid the left-leaning Tinseltown crowd. Actress Eva Longoria, who also serves as the Obama campaign co-chair, came under fire last week after retweeting a vulgar message aimed at GOP nominee Mitt Romney.
"What both instances have in common is an attempt to reassemble Obama's 2008 coalition," Philbin said.
OpenSecrets.org indicates that Streisand, who boasts a net worth of around $340 million, made two donations of $2,300 to the Democratic nominee in 2008, and gave two donations of $2,500 to Obama's re-election in May this year. She has made a total contribution of sum of $61,210 to Democratic candidates in the 2008, 2010 and 2012 election cycles combined. The entertainment icon also attended the lavish $40,000 per plate Obama fundraiser at George Clooney's Los Angeles home earlier this year.
Yet overall, it has been reported that the Hollywood support for Obama is down on 2008, indicated in part the significantly lower celeb turnout at the Democratic National Convention in September.
But others vow that the Democrats aren't the only ones that are desperate for a win, and that liberals in Hollywood are simply damned if they do and damned if they don't.
"The election is tight, and Democrats and Republicans are always desperate to raise more money on both sides," noted Los Angeles culture reporter Jenn Hoffman. "Some people just hate Hollywood types and are going to find a way to be envious and cruel to anyone they perceive as rich, famous and liberal. Those people need to spend less time on the Internet and more time focusing on their own lives."
A rep for Streisand did not respond to a request for comment.