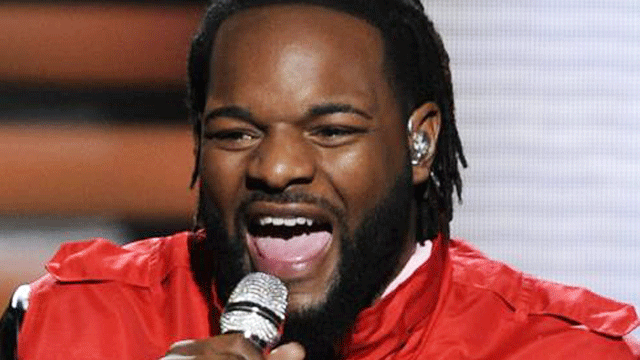 It turns out that Jermaine "Gentle Giant" Jones may not have been so gentle.
"With the cooperation of law enforcement, we made a discovery that left us no choice but to eliminate one of our finalists from the competition," host Ryan Seacrest gravely informed the audience at the top of Wednesday night's live two-hour "American Idol."
About an hour after Seacrest's announcement, it was revealed that Jones not only had four–count 'em, four–outstanding warrants for his arrest, he had been criminally charged twice with giving fake names to police.
Executive producers Ken Warwick and Nigel Lythgoe sat Jones down in the "American Idol" offices to give him the bad news.
"We're not judgmental at all," Warwick explained to Jones during the taped segment. "You were incumbent to tell us the truth about all of this, and it appears that you just haven't on any level."
The 6'8" vocal instructor from New Jersey had concealed his legal troubles from "American Idol" producers–which is a major no-no on any reality show.
"We are not allowed to have anyone who has an outstanding warrant on our program, and you've got four of them," added Lythgoe during the confrontation. "We have to let you go."
Jones, who didn't appear to be especially surprised during the ambush, hugged Warwick and Lythgoe goodbye and quietly left the "American Idol" set in the back of a white Ford SUV.
Meanwhile, semifinalist Joshua Ledet had plenty of reason to celebrate.
The 19-year-old from Louisiana brought judges Randy Jackson, Jennifer Lopez and Steven Tyler to their feet with his soulful rendition of Michael Bolton's 1991 version of "When a Man Loves a Woman."
"The best thing I've ever seen on 'American Idol,'" a flabbergasted Lopez cheered. "The best thing I've EVER seen–amazing!"
"You gave it up so big, God came through your eyes, man," enthused Tyler. "That was just the most beautiful performance I've ever seen."
"Percy Sledge, who originally did that song, is somewhere very proud and happy," raved Jackson.
The enthusiasm from the judges lasted so long, Seacrest finally had to intervene, "This is one of those moments where I'm sitting here thinking, 'Maybe we never go to commercial.'"
Like Ledet, the contestants chose songs from their birth years, which ranged from 1983 to 1995. The relatively recent catalogue of songs dinged one of the judges' ego a bit, "Ouch!" cried Lopez.
Hollie Cavanagh belted out a powerful version of Celine Dion's 1993 cover of "Power of Love," while 21-year-old Phillip Phillips impressed the judges with his rendidtion of the Black Crowes' 1990 cover of "Hard to Handle"–despite having had surgery to remove kidney stones last Thursday.
Skylar Laine also put in a solid performance with a rocking version of Bonnie Raitt's "Love Sneakin' Up On You" from 1994, but the most improved "American Idol" contestant of the night was Elise Testone, who redeemed herself from last week's near-elimination with her version of Tina Turner's 1983 cover of "Let's Stay Together."
"America, Elise is back," declared Jackson. "Welcome back!
Up next: Daughtry and Demi Lovato perform and another hopeful is cut from the competition.