'Idol' Recap: Engaged-to-be-married Steven Tyler plants one on 'Idol' wannabe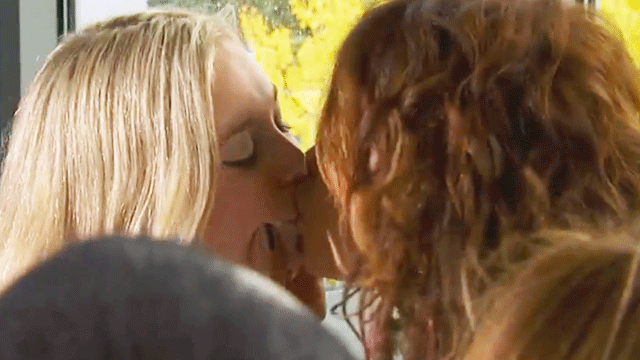 The "American Idol" crew landed in Aspen, Colorado where the lush scenery inspired judge Steven Tyler.
"I mean, it's just unbelievable–the colors," marveled the sexagenarian. "God's paintbrush."

Meanwhile, Tyler did some inspiring of his own.
Music teacher Jenni Schick could barely contain her excitement during her audition. "You know, Steven, me and my boyfriend have lists of people who we can 'kiss' and it's not cheating," gushed Schick. "You're on mine, so..."
Tyler looked dubious. "You better be able to sing good, girl."
Schick did not disappoint, belting out "Heartbreaker" by Pat Benatar, and was promptly rewarded with a wet smack on the lips from Tyler.
"I'm gonna get in trouble for that," laughed the recently engaged Aerosmith frontman.
The 24-year-old also earned a Golden Ticket to Hollywood. While leaving the set, Schick noted, "(Tyler's) lips are very soft...and voluptuous."
Haley Smith, an 18-year old vegetarian who lives in a log cabin and works as a meat packer, impressed the judges with her unique take on Chaka Khan's "Tell Me Something Good."
"You're putting your own spin on the great R&B classic," said judge Randy Jackson.
With three unanimous votes, the neo-hippy chanteuse is off to Hollywood.
"Idol" hopeful Shelby Tweten is diagnosed with bipolar disorder and has struggled with depression since the 4th grade. "'American Idol' has given me a reason to stay on my meds," explained the 17-year-old Minnesotan.
Tweten sang Carrie Underwood's "Temporary Home," which profoundly moved judge Jennifer Lopez.
"So beautiful," said Lopez. "It brought tears to my eyes. I love that song, too–but somebody's gotta really sing it."
Tweten easily won her Golden Ticket.
Jairon "Don't forget the" Jackson wrote his own original song to perform for the judges, "So hard," to which Lopez opined, "He's a lover."
"I'm a lover not a fighter," the 19-year-old retorted, moments before earning his ticket to Hollywood.
Kooky Angie Zeiderman almost blew her audition by singing "When You Got It, Flaunt It," a campy show tune from "The Producers."
Jackson was so put off, he almost didn't let the 25-year-old waitress sing another song. Fortunately for Zeiderman, Lopez insisted she try again, and she turned her audition around by singing a strong rendition of Linda Ronstadt's "Blue Bayou."
"That really changed my mind," said a surprised Jackson. "Hollywood, baby!"
Aspen also had its share of losers, including Magic Cyclops, an Iowan with a British accent who learned his unique dialect from the "local PBS station, which mostly aired BBC programming."
Cyclops brutalized Neil Diamond's "Crackling Rose" before kneeling in front of the judges and exploding a confetti bomb, which "scared the s**t out" of Lopez.
Needless to say, Cyclops was denied a Golden Ticket.
Next up: "Idol" gets spacey with NASA in Houston, Texas.