'Idol' Recap: Jim Carrey's daughter among San Diego wannabes making it to Hollywood round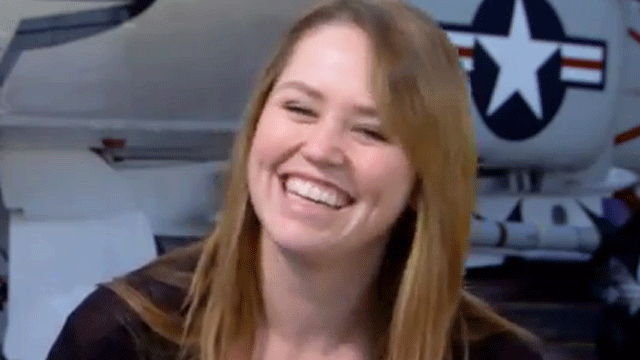 Football and 'American Idol' don't necessarily a good mix make.
Decked out in fur and a bedazzled Patriots scarf, 'Idol' judge Steven Tyler sang (some say butchered) the National Anthem at the AFC Championship on Sunday just before kickoff at 3pm EST.
Almost eight hours later – well past many 'Idol' fans' bedtimes (including this one) – the NFC Championship game went into overtime, delaying the singing competition by almost an hour.
This edition of the "Idol" auditions took place on USS Midway, a retired aircraft carrier now permanently docked in San Diego Harbor. The location was clearly chosen for its visual appeal and not its acoustics, as contestants were constantly interrupted by a series of noises from helicopters, boats, planes – and yes, even a cannon.
Despite the less-than ideal soundstage, 53 contestants earned their Golden Ticket to Hollywood, including gorgeous 26-year-old single mom Ashley Robles, who confidently sang Whitney Houston's "I Will Always Love You."
Slightly flighty Aubree Dieckmeyer at first seemed to think that she was auditioning for "America's Next Top Model." Despite her initial ditziness, the 20-year-old receptionist won over the judges by singing Michael Buble's "Feeling Good."
Contestant Ali Shields got her first big break by writing a song for Ellen DeGeneres. Shields rapped a goofy version of "Look at Me Now" for the judges, which had judge Randy Jackson cracking up.
When Jackson asked if she could do a "little ghetto dancing," Shields happily complied by unselfconsciously performing some booty poppin'. The 19-year-old finally redeemed herself – and won a Golden Ticket – by singing Corinne Bailey Rae's "Like a Star."
Shlubby frat boy Kyle Crews wowed the judges, especially Tyler, who proclaimed that he was "the best male voice" that they have heard so far.
Judge Jennifer Lopez was horrified to realize that the last time she saw contestant Jane Carrey (comedian Jim Carrey's daughter) was on the set of the '80s variety show "In Living Color" – when the "Idol" hopeful was just two.
Carrey sang Bonnie Raitt's "Something to Talk About" and won a ticket (back) to Hollywood.
Jason "Wolf" Hamlin closed the show by singing "Midnight Special" by Creedence Clearwater Revival followed by a stunning version of "Folson Prison Blues" on acoustic guitar – or as Hamlin described it, his "git fiddle."
Unfortunately, they weren't all winners on Sunday's special version of "American Idol."
Jennifer Diley, a curvy "sushi bar waitress" and self-described "patriot" failed to impress the judges with her warbled rendition of Jessica Simpson's "With You." Dressed in a teeny-tiny stretch bandeau top paired with what could best be described as jean bikini bottoms at least three sizes too small, the busty 19-year-old's audition fell flat.
"I think your voice lacks the fire that your getup has," lamented Tyler.
Next up: The lush mountains of Aspen, Colorado, where, presumably, it won't be as noisy.