Hugh Hefner disputes reports he is 'super sick'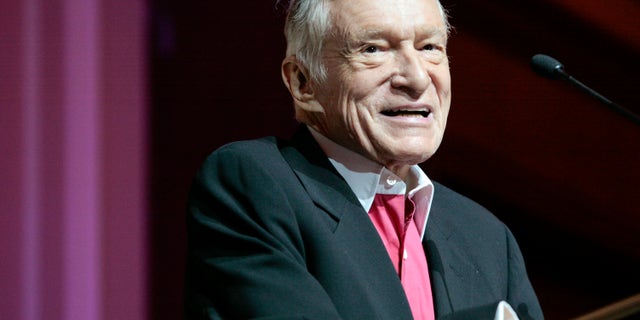 NEWYou can now listen to Fox News articles!
Hugh Hefner is firing back after reports claim the Playboy founder is "super sick."
A source told the New York Post Hefner is "down to around 90 pounds" and "his people are really trying to keep this under wraps."
The source also claims anyone who wishes to meet with Hefner, is required to sign a confidentiality agreement.
A rep for the 90-year-old disputed the claims, telling the FOX411 "Hugh Hefner is fine."
"It is no secret that over the past few years he has suffered with back pain that has made it a bit more challenging for him to get around, but at 90 years of age he is enjoying his life and still very involved in the day-to-day activities of editing the magazine."
Hefner has not made many public appearances in the past few years. He did tweet a photo of himself from his "Midsummer Night's Dream" party on Aug. 27. The Post reports he was absent from the bash and his son Cooper hosted.
Last year, British glamour model Carla Howe said Hefner "is so frail, he goes everywhere with a group of nurses."
While Hefner has been staying out of the public eye, his wife, Crystal, 30, has been active on social media.
She revealed in July her decision to remove her breast implants after they were making her sick. She also shared pictures of herself this week from Paris. Her much-older hubby was nowhere to be seen on her French vacation.
Fox News' Diana Falzone contributed to this report.