'House of Cards' teases death of Kevin Spacey's character in preview clip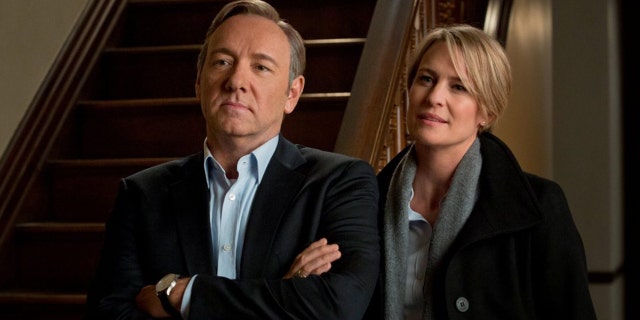 New episodes of "House of Cards" won't be available on Netflix until Nov. 2, but the show has already released a clip suggesting protagonist Frank Underwood is dead.
On Wednesday, the show's Twitter account shared footage of Robin Wright as President Claire Underwood, Frank's on-screen wife.
ROSEANNE BARR GETS EMOTIONAL, SAYS SHE CRIED WHEN JOHN GOODMAN DEFENDED HER
"I'll tell you this though, Francis," she says in the clip, referring to Spacey's character. "When they bury me, it won't be in my backyard."

She adds, "And when they pay their respects, they'll have to wait in line."
"You should have known," the show wrote when sharing the video, which features a tombstone indicating Frank lived from 1959 to 2017.
Kevin Spacey starred as the House Majority Whip, who eventually worked his way into the presidency, for five seasons.
His character's headstone lies to the left of his father's in the clip.
An episode from the show's third season involved Frank visiting the South Carolina site and urinating on the grave of his father, Calvin Underwood.
Fans, however, have been expecting the absence of Spacey's role from the program.
The Hollywood star, 59, was accused of sexual misconduct last fall by several men and the show's production was subsequently put on pause in October 2017.
A representative for Netflix told Fox News at the time they would take proper steps to ensure cast and crew members felt "safe and supported."
"[We're] deeply troubled by [the] news concerning Kevin Spacey. ... As previously scheduled, Kevin Spacey is not working on set at this time," the company said.
Spacey also released a statement admitting he didn't remember at least one of the alleged incidents involving actor Anthony Rapp — who first told Buzzfeed News that Spacey, then 26, made a sexual advance on him when he was 14 years old. In the statement, the 58-year-old star came out as a gay man.
Netflix later announced it was parting ways with Spacey, and the show resumed production in January for its final season.
Fox News' Kathleen Joyce contributed to this report.