'House of Cards' star Robin Wright tells Stephen Colbert about what part on Netflix show he could have played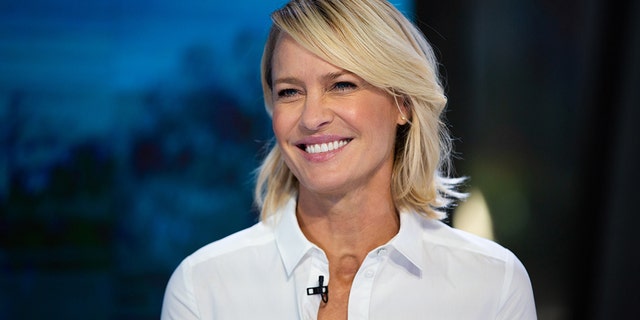 "House of Cards" could have added another famous face to its cast: late-night host Stephen Colbert.
"You know, we wanted you on the show," series star Robin Wright, who plays president Claire Underwood, told the comedian on "The Late Show with Stephen Colbert" Friday.
Colbert seemed taken back by the revelation.
"You wanted me on the show?" the 54-year-old asked. "Did I say no? I take it back if I said no, I say yes."
Wright, 52, told Colbert there had been a rumor he would not try out and it would have to be offered to him.
KEIRA KNIGHTLEY REVEALS THE DISNEY MOVIES HER DAUGHTER IS 'BANNED' FROM SEEING
Colbert said he wouldn't try out, before Wright praised his potential involvement.
"You would have been so great," she mused. "I was thinking, 'Wouldn't it be great if you were the press secretary for Claire?' How great, with his humor."
Colbert appeared bummed out by the news.
"You gotta do another season," he insisted, as the upcoming final season will be available on Netflix early next month. "CBS will help me out, right? Sure, sure. Oh, well - oh, that breaks my heart."
The casting wasn't the only topic the two talked about: earlier in the interview, Colbert jokingly asked Wright to describe her character's "meeting with Kanye."
Wright's reply?
'GAME OF THRONES' STAR PETER DINKLAGE HELPED JAMIE DORNAN PREPARE FOR 'FIFTY SHADES' PERFORMANCE
"I was going to say – and then I caught myself – but I'm going to say it anyway," the star shared. "'I was like, 'Yeah, I'm the first female President of the U.S. but I know nothing about politics, plain and clear."
She added, "And I was like 'Oh, that's kind of close to home.'"
Colbert was quick to offer a wisecrack.
"It's no longer a requirement for the job," Colbert said. "It's all on-the job training."