Holiday Movie Preview: Oscar Hopefuls and Popcorn Movies Go Toe to Toe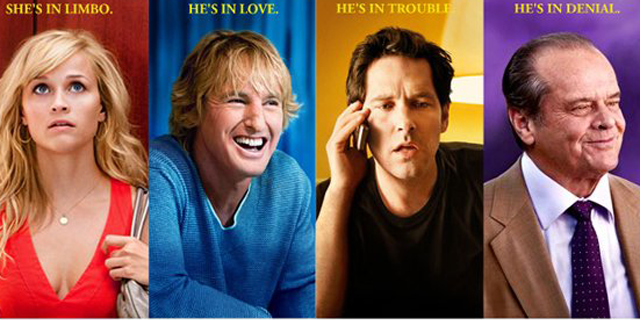 So which season are we approaching – the holiday-movie season, or the awards-contender-movie season?
The answer is .... a little of both.
The award-contender season really starts with the Toronto International Film Festival in September, but Hollywood gets really serious about the movies being released between Thanksgiving and Dec. 31 – five or six weeks in which the studios rush out their most prestigious offerings of the year, in hopes of being the shiny bauble that catches the eye of the voting members for the Oscars and Golden Globes.
As a rule of thumb, during holiday/awards season, you can't go wrong with movies that take us up close and personal with famous historic figures. And the movie that seems to be earning the most Oscar buzz fits the bill: "The King's Speech," which is earning all sorts of Oscar talk for its three stars – Colin Firth, Geoffrey Rush and Helena Bonham Carter. Firth plays King George VI of England, forced to assume the crown in 1936 when his brother abdicated to marry an American divorcee. He winds up befriending an Australian speech therapist (Rush) hired to help him overcome a debilitating stammer that makes public speaking a terrifying prospect.
There's also a great deal of awards-season love for the well-made romantic comedy – and there are a handful in the lineup, starting with "Love and Other Drugs" and "Tangled." Directed by Edward Zwick ("Defiance," "Glory"), "Love and Other Drugs" teams Jake Gyllenhaal, as a pharmaceutical rep, with the always luminous Anne Hathaway, as a strong-minded young woman battling an unfortunate medical diagnosis. Can a hound change his ways to pursue a woman who's shy about commitment?
"Tangled" takes the fairy tale, "Rapunzel" and gives it the Disney treatment, in the best possible way. With songs by Alan Menken ("Beauty and the Beast"), it's computer-animated and in 3D. It's also witty and fast-paced, blending humor, slapstick, action, excitement and romance, with voices by Mandy Moore (Rapunzel), Zachary Levi of "Chuck" (as the rogue who rescues and falls for her) and Broadway star Donna Murphy (as her evil stepmother).
And then there's "How Do You Know?," a romantic-triangle comedy written and directed by James L. Brooks ("As Good as It Gets"). It offers Reese Witherspoon as a star softball player, caught between two men: a legally challenged financier (Paul Rudd) and a skirt-chasing professional baseball player (Owen Wilson). Throw Jack Nicholson into the mix and it all seems quite promising.
At this time of year, there are always popcorn movies aimed at the mass audience, not the awards voters, and this season has its share: "Harry Potter and the Deathly Hallows – Part 1," "Tron Legacy" (a sequel to the 1982 film that was the first to use computer-generated images), and "The Tourist," with Johnny Depp and Angelina Jolie galloping around Europe one step ahead of bad guys with big guns.
Of course, there are always some to avoid. Last year it was the Chipmunks' "Squeaqual" – this year's, it's "Yogi Bear," a live-action comedy for the unsophisticated, who want to watch a CG character voiced by Dan Aykroyd. And sequels are always an iffy thing – "The Chronicles of Narnia: The Voyage of the Dawn Treader" is the third film in a series that ran out of steam with the first film. Then there's "Little Fockers," which should prove that three is rarely the charm when it comes to comedy follow-ups.
But in terms of awards, this is the season where serious drama can find a home – and there are several that are worth checking out. Let's start with "All Good Things," the first dramatic feature from director Andrew Jarecki ("Capturing the Friedmans"). It stars Ryan Gosling and Michelle Durst, in a tale based on the true story of New York real-estate scion Robert Durst, suspected and accused of murdering three people, including his wife and another woman – but never convicted of murder.
Then there's "Biutiful," the latest from director Alejandro Gonzalez Innaritu ("Babel"). Oscar-winner Javier Bardem will be a contender for another statuette, playing a low-level Barcelona hustler, caught up in schemes involving counterfeit merchandise and illegal immigrants – and trying to make a future for his children, while coping with a terminal diagnosis.
Then throw in "Somewhere," from writer-director Sofia Coppola ("Lost in Translation"). She casts Stephen Dorff as a movie star, chilling in Los Angeles' Chateau Marmont between roles, alternately hanging out with his 11-year-old daughter (Elle Fanning) and partying. It won the top prize at this year's Venice Film Festival.
The season always requires a couple of movies that offer intense emotions (and performances) – and they don't get much more intense than James Franco in "127 Hours," the true story of a canyon hiker who got trapped and had to cut his own arm off to save his life. Then there's Natalie Portman in Darren Aronofsky's "Black Swan," reportedly courting Oscar in a major way, as a stardom-obsessed ballerina who becomes best frenemies with her closest competitor (Mila Kunis) for the lead in a new production of "Swan Lake."
A couple more that promise to be Christmas treats: John Cameron Mitchell ("Hedwig and the Angry Inch") directs Nicole Kidman and Aaron Eckhart in an adaptation of David Lindsay-Abaire's Tony-winning Broadway hit, "Rabbit Hole," about a couple whose marriage may not survive the death of a child.
Finally, there's "True Grit," a remake of the Western that won John Wayne an Oscar – but handled by the gruesomely humorous Coen brothers. Newly minted Oscar-winner Jeff Bridges puts on the eyepatch as U.S. Marshal Reuben "Rooster" Cogburn, who is hired by a teen-age girl to track and capture the man who murdered her father after he escapes into Indian Territory. Matt Damon joins the hunt as a Texas Ranger who is also chasing the same man.
That should give you something to line up for after the last present has been opened.
Top 10 Movies to See This Holiday Season
Tangled
Love and Other Drugs
The King's Speech
All Good Things
127 Hours
Black Swan
Rabbit Hole
True Grit
How Do You Know?
Somewhere
Biutiful
Marshall Fine writes about film and entertainment at www.hollywoodandfine.com.