Hillary Clinton compares treatment by Trump fans to 'Game of Thrones' character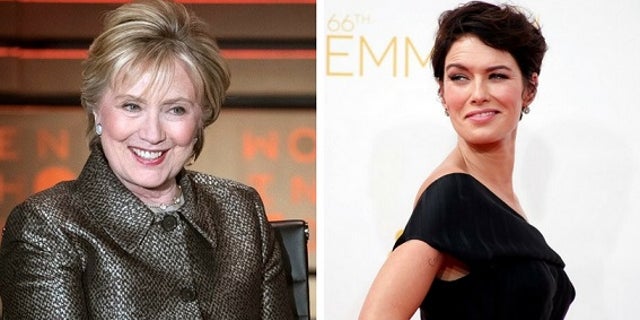 Hillary Clinton's new memoir contains a passage in which she compares her treatment by President Trump's followers to "Game of Thrones" character Cersei Lannister's atonement walk.
Clinton's book "What Happened," which was released Tuesday, has already made headlines for her criticism of Trump and how she believed Russian hackers, sexism, FBI Director James Comey and Sen. Bernie Sander I-Vt. contributed to her election loss.
Clinton wrote the passage mentioning power-hungry Lannister and compared it to the treatment she faced from Trump supporters while on the campaign trail.
MATT LAUER CONFRONTS HILLARY CLINTON ON LIVE TV
"Crowds at Trump rallies called for my imprisonment more times than I can count," she writes. "They shouted, 'Guilty! Guilty!' like the religious zealots in 'Game of Thrones' chanting 'Shame! Shame!' while Cersei Lannister walked back to the Red Keep," Clinton wrote.
Clinton was mentioning a particular scene from a season 5 episode titled "Mother's Mercy" when Cersei pleaded guilty to having an affair with her cousin to the High Sparrow, the leader of a group of religious zealots. The High Sparrow granted Cersei mercy but ordered her to experience a "walk of atonement."
Cersei's long blonde hair was cut short and her clothes were stripped as she was forced to walk around the city as one of the zealots shouted "Shame!" A number of citizens threw garbage, spit and yelled at her as she walked by.
Some social media users questioned the reference since Cersei Lannister is known for being ruthless in order to gain control and described as one of the show's villains.
'GAME OF THRONES' TO FILM MULTIPLE SERIES FINALE ENDINGS TO AVOID LEAKS, HBO EXEC SAYS
Clinton wrote that she was "taken aback by the flood of hatred" she endured during the campaign.
"Now people seemed to think I was evil...Was this all because I'm a woman? No. But I believe it was motivation for some of those chanters and some of that bile," Clinton wrote.