Golden Globe Predix: Ricky Gervais will offend; big night for Clooney, Streep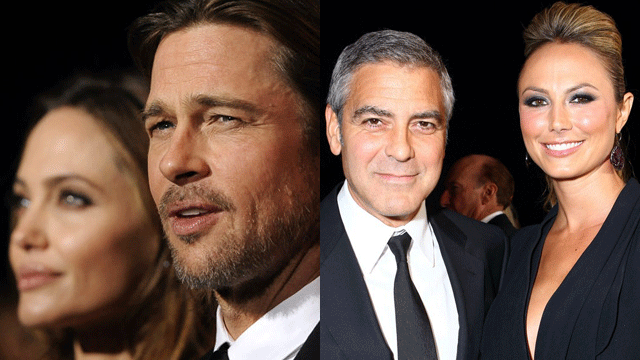 When the Golden Globe Awards are presented on Sunday evening, there are three things that you can be certain of:
1. Host Ricky Gervais will make obnoxious jokes about many of the stars sitting in the audience.
2. Host Ricky Gervais will make obnoxious jokes about members of the Hollywood Foreign Press Association (HFPA) – the group which presents the Golden Globe Awards.
3. Host Ricky Gervais will make obnoxious jokes about many stars NOT sitting in the audience.
But as much as Mr. Gervais may dominate attention, the real question to serious film fanatics is how well the Golden Globe winners will forecast the Academy Award results. Last year, "The Social Network" won Best Picture and Best Director at the Globes, but went on to lose both categories to "The King's Speech" at the Oscars. However, four Globe acting winners (Colin Firth, Natalie Portman, Christian Bale and Melissa Leo) repeated their victories at the Kodak Theatre.
The same thing happened the year before. "Avatar" claimed Golden Globes for Best Picture and Best Director, but was defeated by "The Hurt Locker" in those two Oscar races. Meanwhile, four Globe acting champs (Jeff Bridges, Sandra Bullock, Christoph Waltz and Mo'Nique) went on to see Oscar glory just one month later.
What will this year bring? The Golden Globes have become increasingly harder to predict, and there's virtually no overlap between their members and the voters in the Motion Picture Academy. But that doesn't stop awards analysts (like yours truly) from trying to make sense of it all.
Here's what to expect in the major film categories.
BEST ACTOR – DRAMA
Nominees: George Clooney in "The Descendants," Leonardo DiCaprio in "J. Edgar," Michael Fassbender in "Shame," Ryan Gosling in "The Ides of March," Brad Pitt in "Moneyball"
Prediction: George Clooney and Brad Pitt (tie)
Okay, so maybe I'm cheating here. But it's such a tight race between Clooney and Pitt, two of Hollywood's biggest stars. Both have previously won Supporting Actor Globes, Clooney for 2005's "Syriana" and Pitt for 1995's "12 Monkeys." Both delivered superb performances in Best Picture nominees. And both had banner years in 2011. Clooney helmed "The Ides of March," which also won him a Globe nomination for Best Director. Pitt starred in "The Tree of Life," which earned him terrific notices a few months before "Moneyball" was released.
Given the HFPA's love for celebrities, I suspect that they're truly torn between the two. With only about 90 members (and five nominees in the category), a tie is very real (albeit remote) possibility. If you forced me to choose one, I would probably flip a coin and say Clooney. If he wins, he's the instant Oscar frontrunner. But if Pitt prevails, it's a whole new Oscar race. (And if there's a tie – remember that you read it here first.)
BEST ACTRESS – DRAMA
Nominees: Glenn Close in "Albert Nobbs," Viola Davis in "The Help," Rooney Mara in "The Girl with the Dragon Tattoo," Meryl Streep in "The Iron Lady," Tilda Swinton in "We Need to Talk About Kevin"
Prediction: Meryl Streep
Streep already holds the record for most competitive wins at the Golden Globes, with seven. Come Sunday night, she'll have eight. She delivers what is arguably her finest performance ever as Margaret Thatcher in "The Iron Lady." Many observers feel that she's already a lock for the Academy Award.
With the HFPA's strong history of honoring her and her current Oscar momentum, it's highly unlikely that the group will make another selection. Streep has proven to be a terrific speechmaker in recent years, marking the highlight of many a Golden Globe ceremony. Expect a standing ovation when her name is called, and some clever quips when she takes to the stage.
BEST ACTOR – COMEDY/MUSICAL
Nominees: Jean Dujardin in "The Artist," Brendan Gleeson in "The Guard," Joseph Gordon-Levitt in "50/50," Ryan Gosling in "Crazy, Stupid, Love," Owen Wilson in "Midnight in Paris"
Prediction: Jean Dujardin
With a landslide victory expected for "The Artist" in the previous category, French actor Dujardin appears to be a no-brainer here. It's a physically challenging and emotionally draining performance. He sings, he dances, he screams and he laughs. He struts his stuff dressed in cool threads from the 1920's and 30's, much of it while carrying a dog.
Gosling and Wilson may have bigger names, but they also have thinner roles. Gordon-Levitt delivers a terrific performance, but it lacks the cache of Dujardin's. True, Dujardin is a relative unknown in the US, but so were Marion Cotillard ("La Vie en Rose") and Sally Hawkins ("Happy-Go-Lucky") when they won in recent years. A Dujardin victory will give him a nice boost in the Oscar race. Can he go all the way? It's still early, but my instinct tells me "oui."
BEST ACTRESS – COMEDY/MUSICAL
Nominees: Jodie Foster in "Carnage," Charlize Theron in "Young Adult," Michelle Williams in "My Week with Marilyn," Kristin Wiig in "Bridesmaids," Kate Winslet in "Carnage"
Prediction: Michelle Williams
There's little suspense in the category, with Williams earning awards buzz long before the film was even released. As Marilyn Monroe, she exudes a rare combination of grace, humor, sex appeal and vulnerability. The HFPA has always been keen on period pieces and films about show business, making this a one-two punch. Williams has previously been nominated for two Golden Globes, watch for the third time to be the charm.
The only chance for an upset could be if love for "Bridesmaids" carries Kristin Wiig through. Still, expect Williams to walk away with the Globe bridal bouquet. Monroe herself won this category for more than 50 years ago for "Some Like It Hot.". When Williams wins, perhaps she'll make note of that.
Nominees: Kenneth Branagh in "My Week with Marilyn," Albert Brooks in "Drive," Jonah Hill in "Moneyball," Viggo Mortensen in "A Dangerous Method," Christopher Plummer in "Beginners"
Prediction: Christopher Plummer
Plummer is widely seen as the frontrunner for the Best Supporting Actor Oscar. He's a screen legend, and delivers what is possibly the most moving performance of his career in "Beginners." Unless Globe voters seriously want to defy expectations, there's little chance for another actor to prevail. Hopefully Plummer can think of this as a rehearsal for his Oscar acceptance speech – because that's where the race is headed.
Nominees: Berenice Bejo in "The Artist," Jessica Chastain in "The Help," Janet McTeer in "Albert Nobbs," Octavia Spencer in "The Help," Shailene Woodley in "The Descendants"
Prediction: Octavia Spencer
This category is often a tricky one, and this year is no exception. Spencer's turn as a feisty maid in "The Help" has been one of the most talked-about performances of year. If members of the HFPA want to honor the film somewhere, this is probably the best place. The only danger to Spencer is if a sweep for "The Artist" pulls Berenice Bejo through, or if Globe voters opt to go with "Help" co-star Jessica Chastain for her large body of work in 2011. Overall, the odds still seem to favor Spencer.
BEST DIRECTOR
Nominees: Woody Allen for "Midnight in Paris," George Clooney for "The Ides of March," Michel Hazanavicius for "The Artist," Alexander Payne for "The Descendants," Martin Scorsese for "Hugo"
Prediction: Martin Scorsese
This is the toughest category to call. If I'm right about "The Descendants" and "The Artist" taking the two Best Motion Picture prizes, then either Alexander Payne or Michel Hazanavicius would be the most likely victor. But the HFPA loves both "Hugo" and its director Scorsese, whom they have honored twice before. If members want to spread the wealth around on Sunday night, he would seem to be the most logical choice. Of course, no one ever said that the Golden Globes were logical. If they were, would Ricky Gervais really be hosting the show again?
BEST MOTION PICTURE – COMEDY/MUSICAL
Nominees: "50/50," "The Artist," "Bridesmaids," "Midnight in Paris," "My Week with Marilyn"
Prediction: "The Artist"
Unlike last year, which saw the likes of "Burlesque" and "The Tourist" make the category, this year's contenders are all quite strong. In a weaker year, any one of them could easily prevail. But this year "The Artist" appears to be the solid Oscar frontrunner, so watch for Globe voters to anoint it first. It benefits from the fact that it's not a pure comedy and not contemporary.
The mixed dramatic elements and period setting add it to its prestige, while the black and white/silent movie factor adds to its intrigue. "Midnight in Paris" seems lightweight by comparison and "Bridesmaids" is just too mainstream. The last Golden Globe Comedy/Musical winner to eventually receive the Best Picture Oscar was 2002's "Chicago." "The Artist" just might be the next.
BEST MOTION PICTURE DRAMA
Nominees: "The Descendants," "The Help," "Hugo," "The Ides of March," "Moneyball," "War Horse"
Prediction: "The Descendants"
Unlike some years, there's no slam dunk in this race. You can count out "The Help," "Moneyball" and "War Horse," which failed to earn directing nominations. HFPA voters love both "Hugo" and "The Ides of March," but the former may seem too unconventional and the latter simply too commercial to win the top award.
This leaves the acclaimed "The Descendants," which was named best picture by the Los Angeles Film Critics. Family drama has always been a popular Globe genre and the reviews have been strong across the board. The film is boosted by George Clooney's star power and a tight, moving script. Part of me wants to pick "Hugo" just too be adventurous, but "The Descendants" is the safest choice of the bunch.