Global Style Round-Up: Fashion World Sick of Kardashians and Gaga, Ready for a More Ladylike Look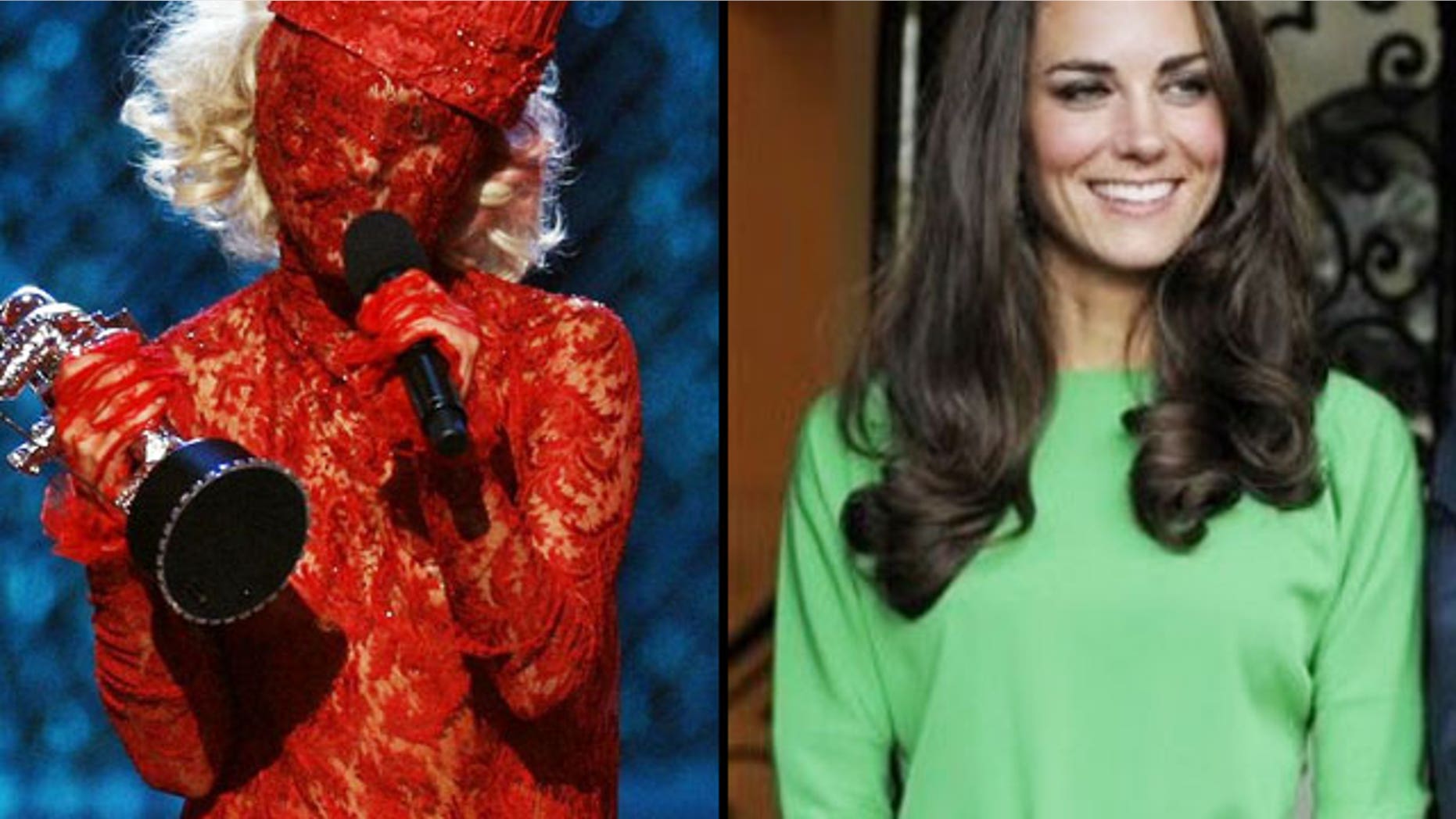 As fashion weeks in New York, Paris, London and Milan have come to a close, it seems that designers around the world are finally doing away with crazy, outlandish fashion and replacing it with more conservative, feminine looks.
"Designers are sick of the trashiness of reality stars and we're rebelling [against] reality and things like the Kardashians," prominent celebrity stylist Phillip Bloch told FOX411's Pop Tarts column. "We're also sick of the costume show that we see so much of between Lady Gaga, Katy Perry and Nicki Minaj. The heels have even come right down on the runway, and there are classy little details."
For one, Giorgio Armani showed soft silvers and blues – glamour fused with sophistication, shimmering fabrics and a feminine flow with his mother of pearl-inspired collection in Milan last week. The models sashayed in off-the-shoulder blouses and simple belted jackets – a far cry from last year's collection featuring all dark colors, some midriffs and tribal headpieces.
Luxury English brand Mulberry brought back bright colors, pleated maxi dresses and kitschy knee-length skirts reminiscent of a seaside English vacation decades ago. And just a few seasons ago the Gucci girls were sent strutting in jaw-dropping dominatrix heels, but traded them this season for simple stilettos along with high-waisted pants and flapper-style dresses in homage to the roaring 20's.
And that was no coincidence, according to supermodel Jaimie Hilfiger – the niece of famed designer Tommy Hilfiger . She tells us that said designers are most likely already channeling the highly-anticipated remake of "The Great Gatsby," which is currently being filmed in Australia.
"Movies and popular television shows have always had a strong influence on fashion. Since 'Mad Men' has hit the scene, we have seen a strong 60's lady-like influence on fashion as well, and with the remake of 'The Great Gatsby,' we are going to see the return of the 20's influence which also consists of these elements," she explained. "The Kate Middleton impact was definitely present – designers always need an inspirational muse. We saw this evidenced during Jason Wu and Tommy Hilfiger. Wu even named his collection fittingly, 'The Princess Diaries.'"
The majority of the collections had some aspect of romance – ruffles, bows, rounded collars, lace embroidery and feminine patterns like polka dots or color blocks – a true celebration of femininity, in clothes one could actually step out of the house wearing.
"Designers are going for more 'wearable' items that can be pulled off the runway and worn on a red carpet. Christian Dior has tamed his collection down a lot this season which could have to do with the firing of head designer John Galliano," said Los Angeles-based fashion publicist, Sarah Pollack of Caro Marketing. "It's nice to see feminine pieces hitting the catwalks again."
And according to Associated Press fashion expert Natalie Rotman, it isn't just the designers that are all about swapping out shock value and somber get-ups for more ladylike attire – the stars are also following suit.
"Trends continue to go in cycles, from one extreme to the other. Fashion is coming out of a 1980's throw back, to presently a serious 1940's and 1950's love affair. Lady Gaga is a perfect example, with her recent knee-length, lady like, pencil skirt dressed by Moschino and Tom Ford," she said. "Designers like Versace, known for its high drama and short hem lines, even did knee length lady like dressing for spring/summer 2012. It's a return to feminine glamour and conservative values, similar to how the world dressed during WWII when they faced economic hardship."
But given the seasonal, financially-troubled industry that it is, don't expect the fashion community's sudden love for ladylike dressing to last too long. Blink and you might miss it.
"It's a business where you have no choice but to convince people its time for a new look all the time in order to keep it thriving – right now it's a conservative, nice time," Bloch added. "It is a refreshing change from the cartoon character looks we've seen in we've seen in the past both in Hollywood and on the runways. But expect something totally different next season."