Geraldo Rivera's 'Celebrity Apprentice' diary: Of Hooters & Patriots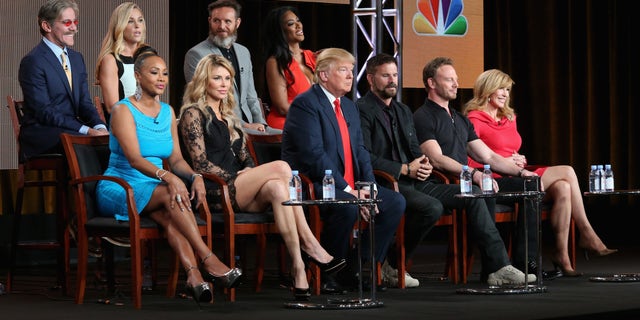 NEWYou can now listen to Fox News articles!
As the Blizzard of 2015 barely grazed the Big Apple on Monday night, storm-stranded television viewers watched me lose two big Apprentice challenges. Hooters girls were one big reason, and so was my excess of exuberant patriotism. Let me explain.
Helmed by Sig Hansen, the colorful Captain of the famed fishing boat 'Northwestern' of "Deadliest Catch" on Discovery Channel, both Teams Vortex and Infinity were tasked with mounting a Circle Line Cruise past some classic New York landmarks.
I live on to fight another week, although my mediocre performances have certainly taken away any cockiness I previously displayed.
To spice up our voyage, Captain Sig came up with the idea to use Hooters girls. I'm not sure what his previous relationship with the buxom babes of fast food was, but clearly they were keen on participating in our show. The problem was that many of our passengers were either married couples or single women and apparently, they did not appreciate the overtly sexual presentation of their snacks.
Some of our passengers, and certainly Eric Trump, the dashing younger son of Donald who was on board as we cast off from the Circle Line pier on New York's West Side, did not appreciate my over-the-top emotional recitation of the re-building of the World Trade Center. Of particular annoyance to our passengers and judges was my shouting how "the terrorists have been defeated."
In retrospect, Eric and the disgruntled passengers were absolutely right. I should have saved my rhetorical flourishes for a July 4th pep rally. That is especially true when our sexy/sour presentation is compared with the job done by our rivals on Team Infinity. Their New York party was conceived by project manager Brandi Granville who smartly allowed her flamboyant fellow Real Housewife Kenya Moore to writhe and spin to her own upbeat music putting our Hooters to shame in terms of originality and outrageousness.
Our side also came up short on the other task of the evening, putting on a convention-style presentation of the Trump National Doral luxury Miami Resort. Our big idea was to take the nickname of the resort's legendary golf course, the 'Blue Monster,' and use it as a marketing angle, like Mickey Mouse is for Disneyland.
To that end, our project manager Kate Gosselin and I designed a Blue Monster-themed daycare for the children of golfers, and a blue Vodka-based cocktail also called the Blue Monster. Where we got bogged down was with the rest of the presentation. As Kate and I worked to get the daycare and bar laid out, our field team Kenya Moore and Viveca A. Fox allowed their personal animosity/rivalry to impact negatively their shopping excursion to bring back the luxury items we needed to design our presentation. They got back way past our scheduled cut-off time, which left Kate precious little opportunity to stage our display.
Again, our rivals at Team Infinity cleaned our clocks by presenting an interactive experience that was lush in its exhibition.
In both the golf outing and the Circle Line Cruise, our project manager got fired. So, goodbye to Kate Gosselin and to Sig Hansen, two class acts who will be missed. I live on to fight another week, although my mediocre performances have certainly taken away any cockiness I previously displayed.