Geena Davis claims she and Reza Jarrahy were never legally married: report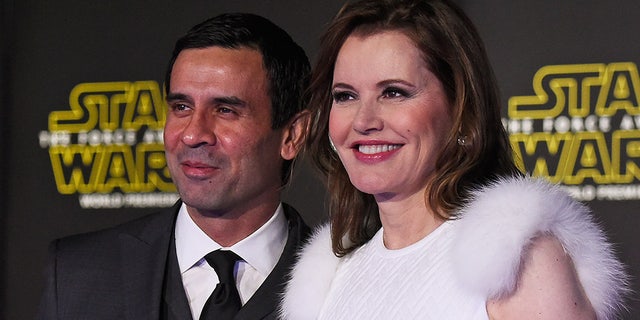 Just because Earth girls are easy doesn't mean their divorces are.
Geena Davis doesn't want to pay her estranged husband spousal support in their divorce, because she claims he was never even legally her spouse.
Reza Jarrahy, 47, filed for divorce from Davis in May.
Davis, 62, claimed in documents obtained by The Blast that she and her fourth husband never filed their marriage license with the county clerk after tying the knot in a small Hamptons ceremony in 2001.
"[The couple] knowingly and voluntarily chose to have a marriage-like ceremony, fully aware that it was not legally binding," Davis claims in the documents.
The "Thelma and Louise" star filed to dismiss Jarrahy's divorce petition, citing that the marriage was never legally binding, and she brought receipts, including a letter Jarrahy signed in 2012 declaring, "I filed my tax returns in 2009 as a single individual because I am not currently married. Ms. Davis and I cohabitate and co-parent our three children but are not officially wed."
She also presented documentation that despite being a couple for over 17 years, they never obtained a marriage license, nor did they combine their finances in joint checking, savings or retirement accounts and that Jarrahy was never even listed under Davis' SAG-AFTRA healthcare plan because he was not legally a family member.
However, sources close to Jarrahy told The Blast that witnesses claim the marriage was legitimate and pointed out that Davis referred to the doctor as her husband in interviews.
Indeed, Davis, who was previously married to Jeff Goldblum, director Renny Harlin and restaurant manager Richard Emmolo, told Good Housekeeping in 2006 that embarking on her fourth marriage wasn't scary at all.
"I did say to Reza, 'You're about to become someone's fourth husband. What on earth are you thinking?' But as for myself, I wasn't nervous at all," she said. "I really did feel that I had turned a corner, that I had pulled off changes that were real and permanent."
The estranged couple share twin 13-year-old sons, Kian and Kaiis, and 16-year-old daughter Alizeh, who TMZ reports Jarrahy fears will be considered "illegitimate" if the marriage was never valid.
This article originally appeared on Page Six.