'Game of Thrones' star Kit Harington's 'emotional' farewell to hit HBO show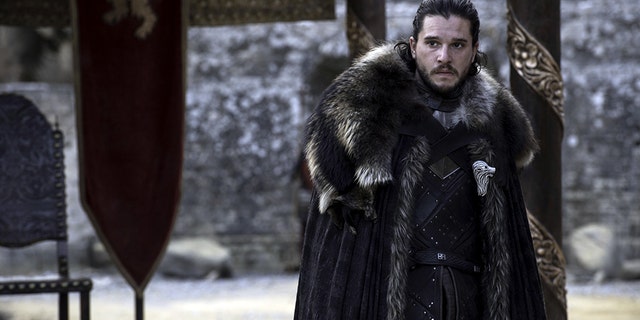 Kit Harington spoke about his "amazing journey" with "Game of Thrones" — as well as the show coming to a close — in a recent radio interview.
The 31-year-old actor was asked about the hit HBO series while speaking with Craig Charles on BBC Radio 2.
"Do you feel as though it's an albatross around your neck, or do you still enjoy the massive worldwide success of it?" Charles asked the star.
"I've always enjoyed it," Harington confided. "I mean, I actually just wrapped on Thursday last week. It's just been this amazing journey."
He continued, "And I kinda said to them on my wrap speech that ... it's always been more than a job."
Harington added, "It's like, they were a family and it was my life. And, I've loved every minute of it. I've been quite emotional all last week thinking about having ended, having finished it."
EMMY NOMINATIONS: 'GAME OF THRONES' LEADS WITH 22 NODS
Last week, co-star Maisie Williams, who plays Arya Stark on the fantasy show, also said goodbye to the program and her character.
Williams shared a snap of a pair of shoes with her Instagram followers on Saturday, and included a message in the caption.
"Goodbye belfast," she wrote, referencing the Irish city where the show was filmed. "Goodbye arya. goodbye game of thrones."
"What a joy i've had," Williams shared. "Here's to the adventures to come. #lastwomanstanding #barely#immasleepforthenextfouryears#justkiddingidontsleep."
And she wasn't the only "Game of Thrones" star to share a social media send-off: actress Emilia Clarke, who plays Daenerys Targaryen, shared a message on Instagram June 17.
HBO'S 'GAME OF THRONES' PREQUEL TO BEGIN FILMING IN IRELAND THIS FALL: REPORT
Clarke posted an image of herself in a field of flowers on her Instagram account at the time.
"Hopped on a boat to an island to say goodbye to the land that has been my home away from home for almost a decade," her message read.
The 31-year-old actress added, "It's been a trip @gameofthrones thank you for the life I never dreamed I'd be able to live and the family I'll never stop missing #💔#lastseasonitis."
The final season of "Game of Thrones," airing in 2019, will reportedly consist of six episodes.