Fans Gather for Glimpse of Jackson Funeral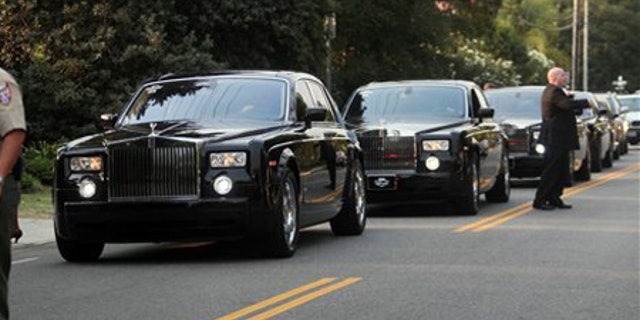 GLENDALE, Calif. – Few fans gathered — and those who did were kept at a distance — to say goodbye to Michael Jackson.
Dozens of die-hard King of Pop devotees congregated in the heat outside a security perimeter that stretched for several blocks around the entrance to Forest Lawn Memorial Park. Gregg Harris from Irvine, California, was among the first to arrive hours before Jackson's Thursday night service was scheduled to begin.
"There's not really much to see," said Harris, sitting at a nearby bus stop, dressed from head to toe in black, including an "In Remembrance of Michael Jackson" T-shirt and hat. "I just wanted to be in the area. Hopefully, I can see the family go by."
Later in the afternoon, Courtland Llauger and his friends stood outside a nearby strip mall, struggling to hold up an 80-foot-long (24-meter-long) banner that read "The King of Pop, Michael Jackson, Gone Too Soon." Llauger said he was hoping that other fans would join them to help hold the banner up.
"All of the fans around the world that couldn't make it, this is for them," he said.
Across from one security border, a raucous group of adults and children gathered around a car parked next to a hamburger joint. As the vehicle blasted "Billie Jean," a few of the children danced for the camera crews who trekked over from the front of the cemetery. They later disbanded.
As the sun set, more fans stationed themselves at the edges of the security perimeter, hoping to see something — anything — while guests arrived. Catherine Montoya drove from Commerce, California, with her 9-year-old son but could only glimpse the cemetery's fountain in the distance.
"I wish there were more fans here," she said, weeping. "I know they're out there."
After the service was under way, the number of onlookers dwindled. Jesse Hudson remained on the sidewalk, singing along to "Thriller" on a boom box and clutching a Styrofoam tombstone he plastered with pictures of Jackson. He said he would stay there until the family drove away.
"I just want to say goodbye," Hudson said, "and blow them kisses."